From Sister's Oregon, we went to visit Colleen's nephew Casey and his family.
Casey took us on a tour of the Good Life Brewing Company in Bend where he manages sales & distribution.
We both agree, without question and without familial favoritism, Good Life Beer is now our favorite beer.
The fact that the Brewery cannot keep up with demand speaks for itself.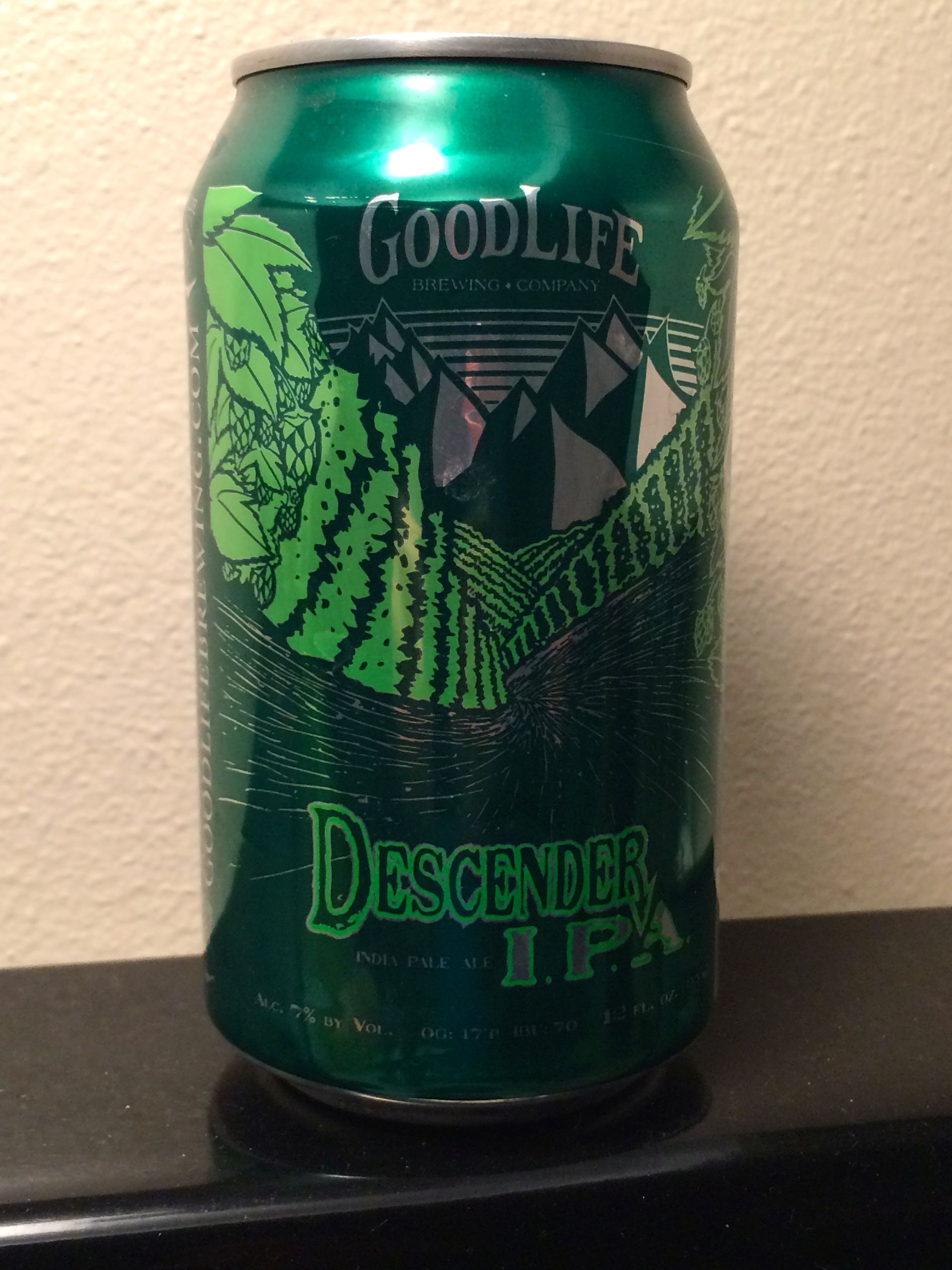 So just as we are living the good life - "Good Life"  Descender IPA is a Primal Mates pick for best beer!
Now we are hoping Casey's company may agree to help sponsor our tour.
Then on to Portland, but 1st, another hot springs stop at Belknap Crater Hot Springs on the McKenzie River.
We spent 2 nights next to the river, walking in the old growth woods along the river and walking the superb grounds across the bridge with gardens intermixed with forest.
We were again reminded of Greece within one area of the gardens when we ventured upon what appeared to be an ancient circular wall covered with ivy.
We found the only opening which took us to an inner courtyard garden complete with Grecian Style pillars, fountains & flowers.
These fountains & gardens inspired Colleen's lyrics to Chris' composition "The Fountain" written after the last visit to this other worldly place.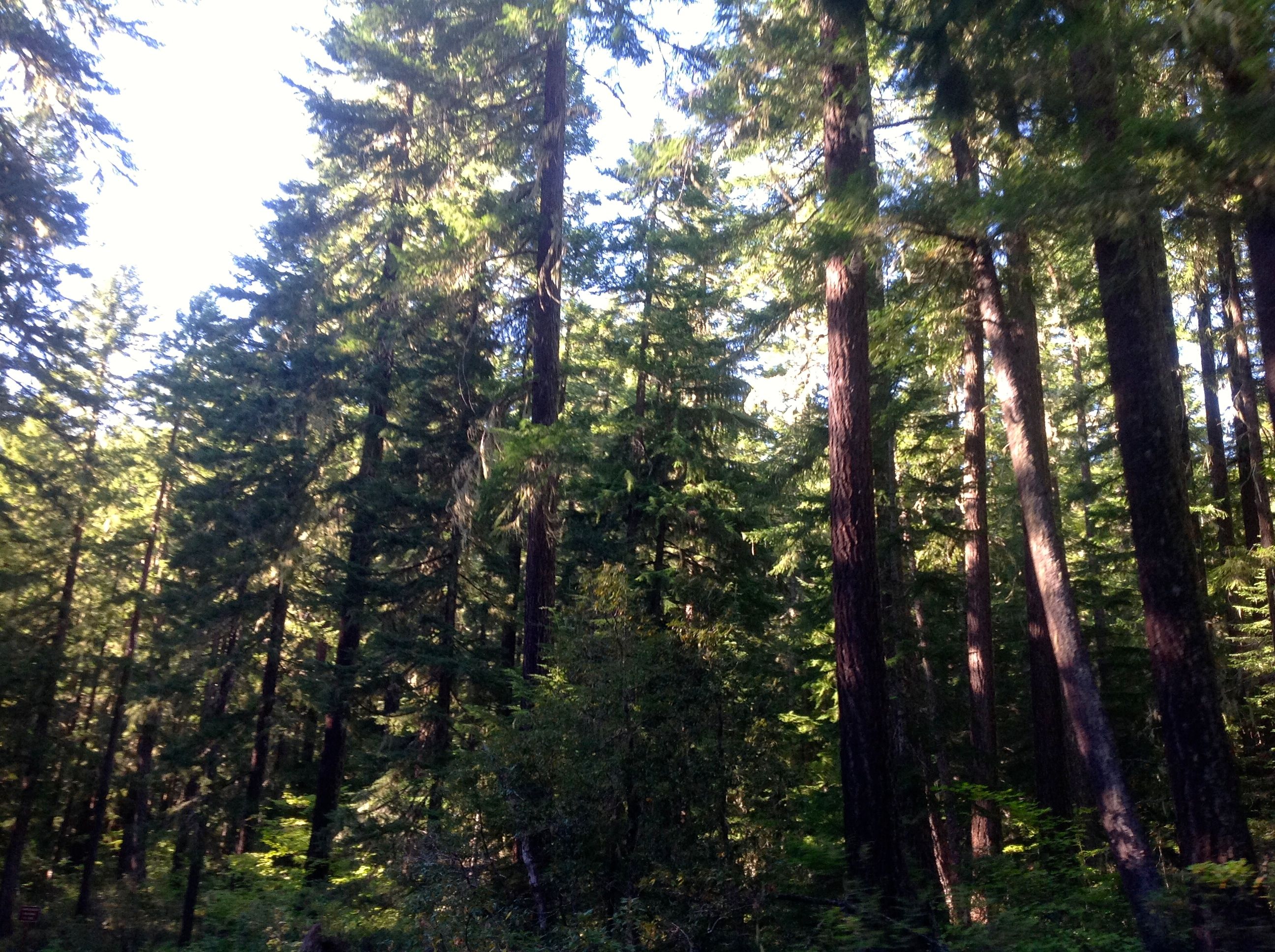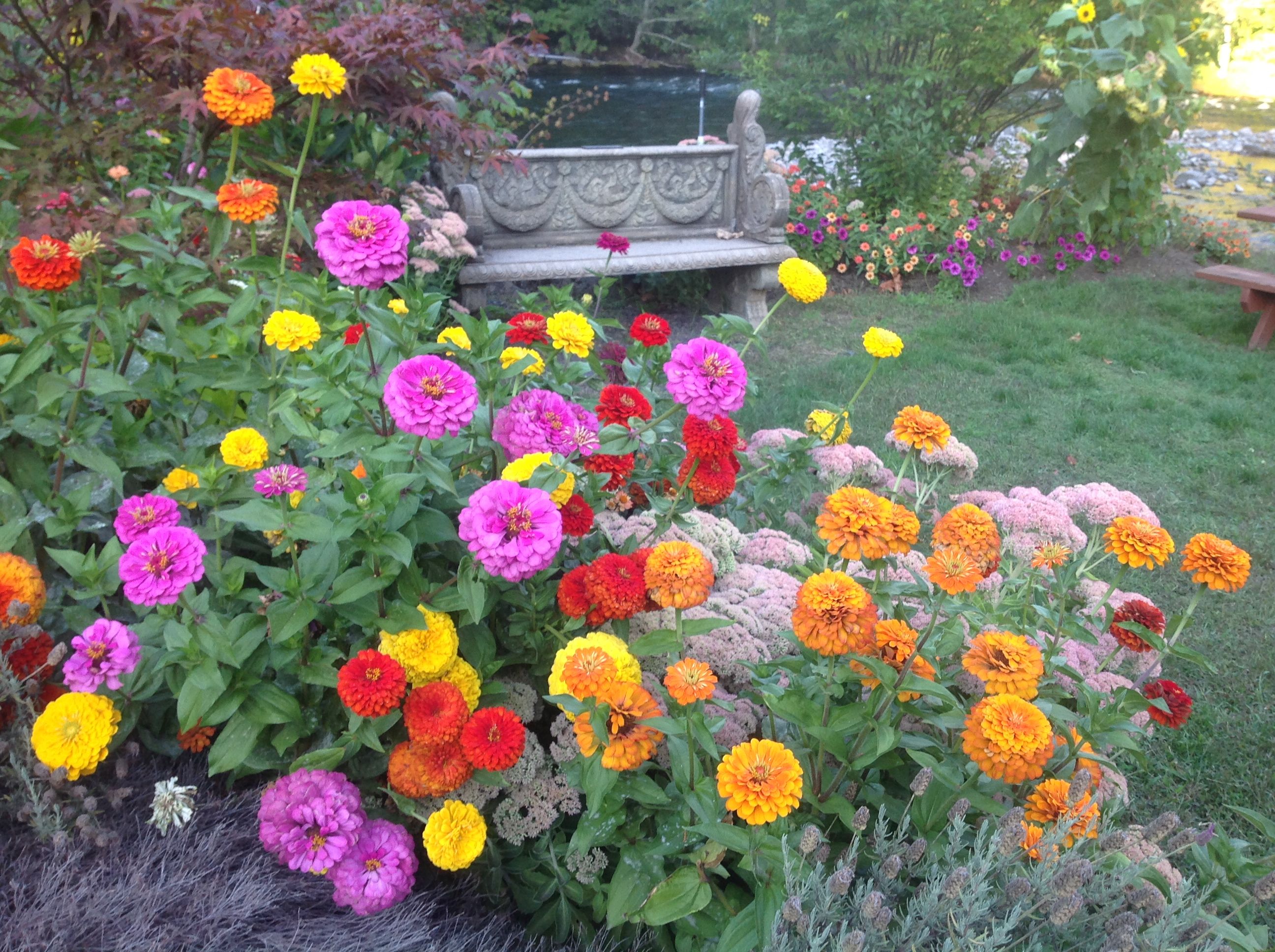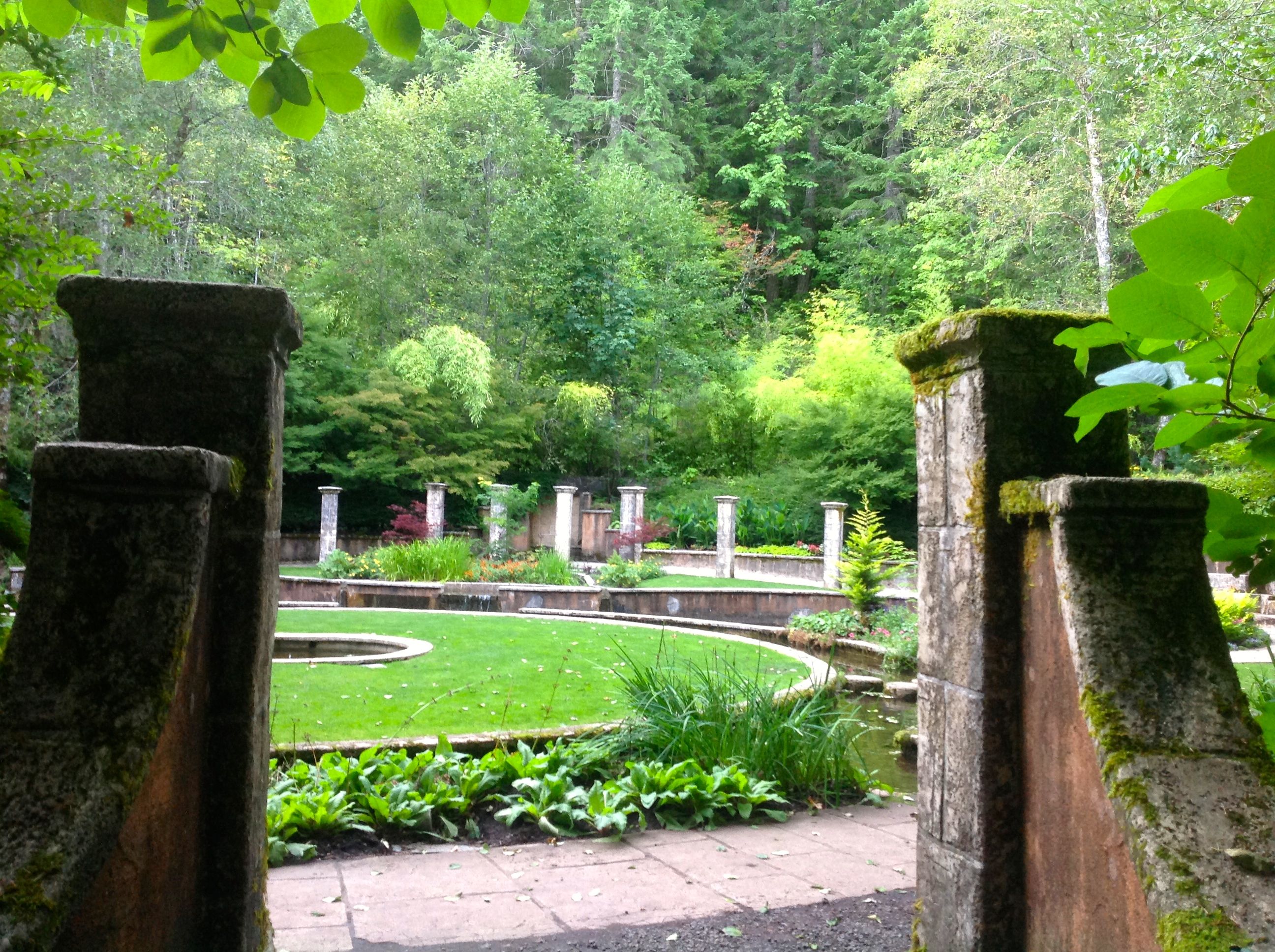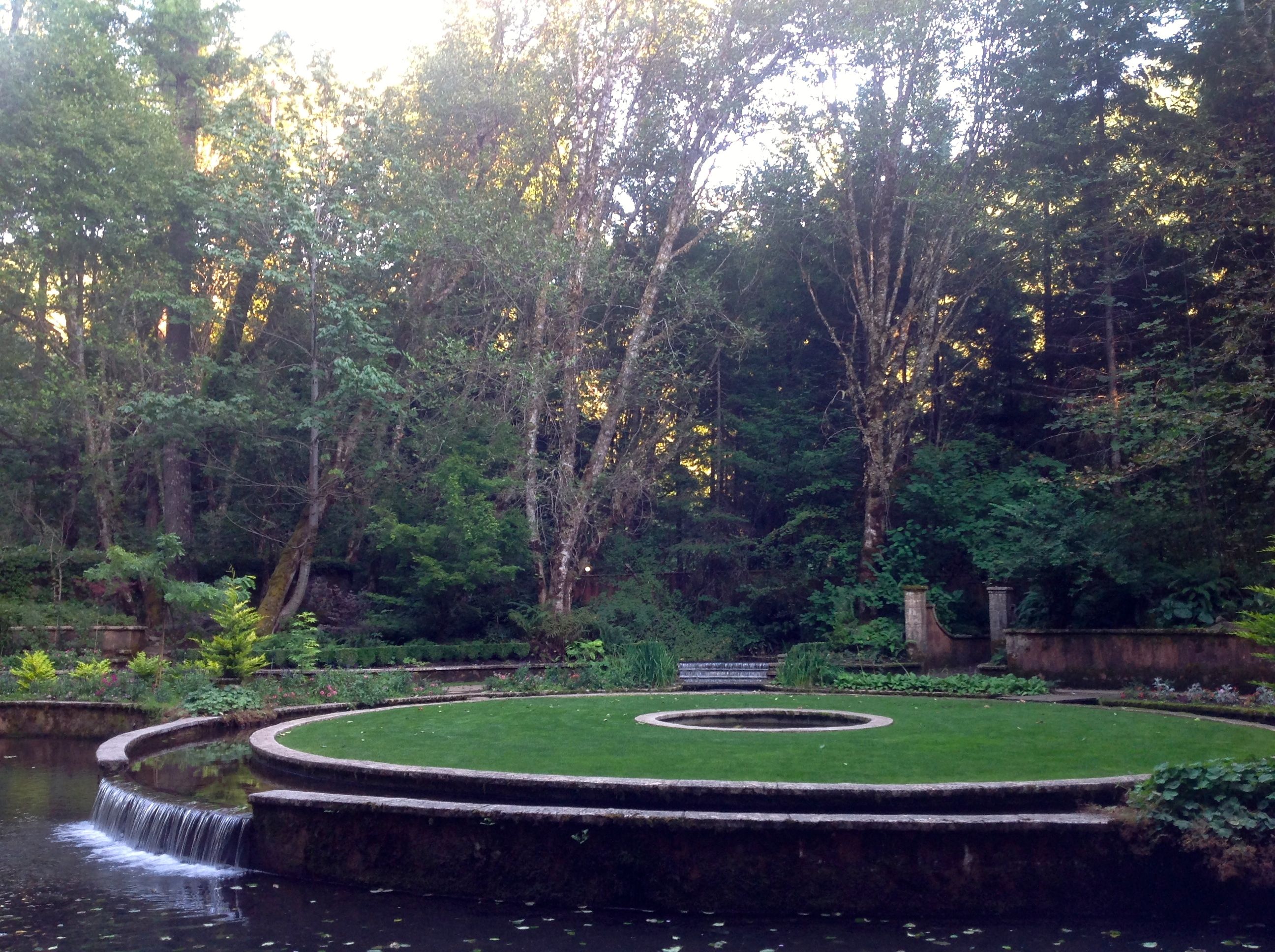 We landed in Portland on September 11th.  Both of us grew up in Portland and lived much of our lives here until our adventures began together taking us up to Homer, Alaska.  More about that later as we are planning to include Alaska in our travels next summer.
We stayed Chris' Aunt Teedy for these 3 plus weeks while coming and going to our performances in the area and visiting many friends and relatives.
Lacy Timberland Library was our first gig in the area, just north of Olympia Washington on Puget Sound.
This library is placed amidst giant Douglas Fir Trees -
We had a very rapt group of listeners who asked great questions and also informed us of other poets and writers to consider.
From Lacy, we traveled north to take a ferry from Tacoma to Vashon Island to visit our good friend Paula before returning to Portland the next day.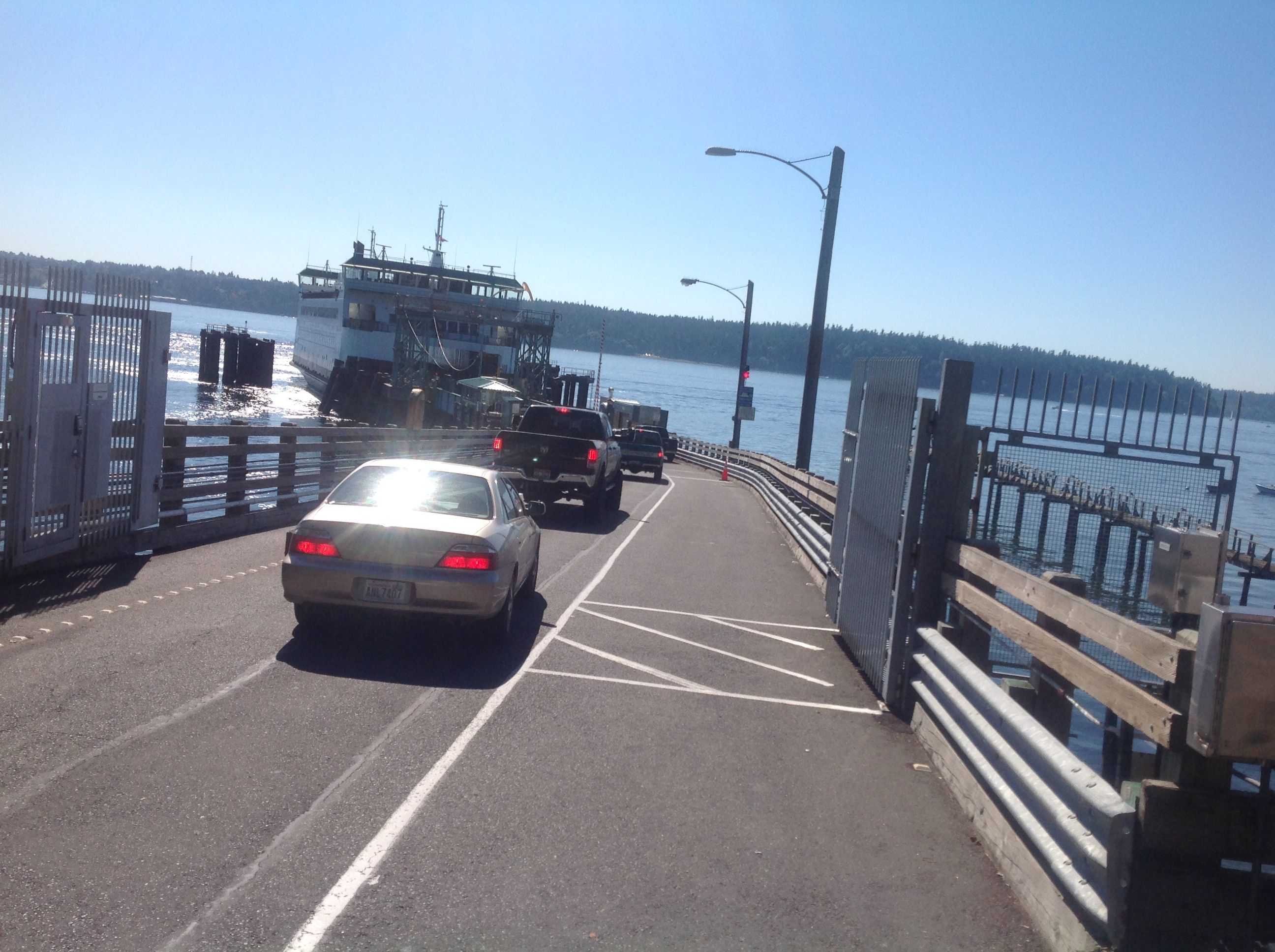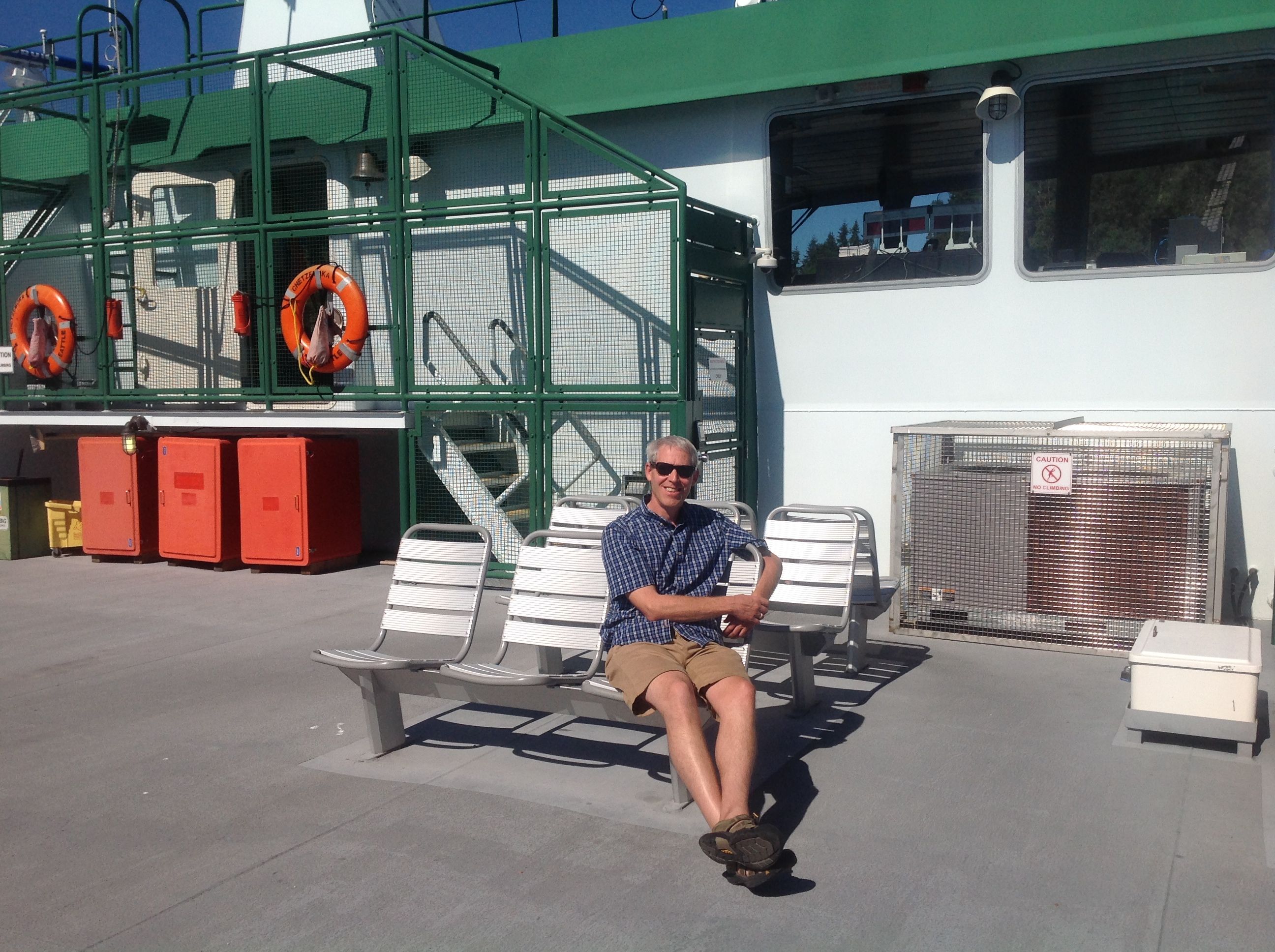 Mt. Rainier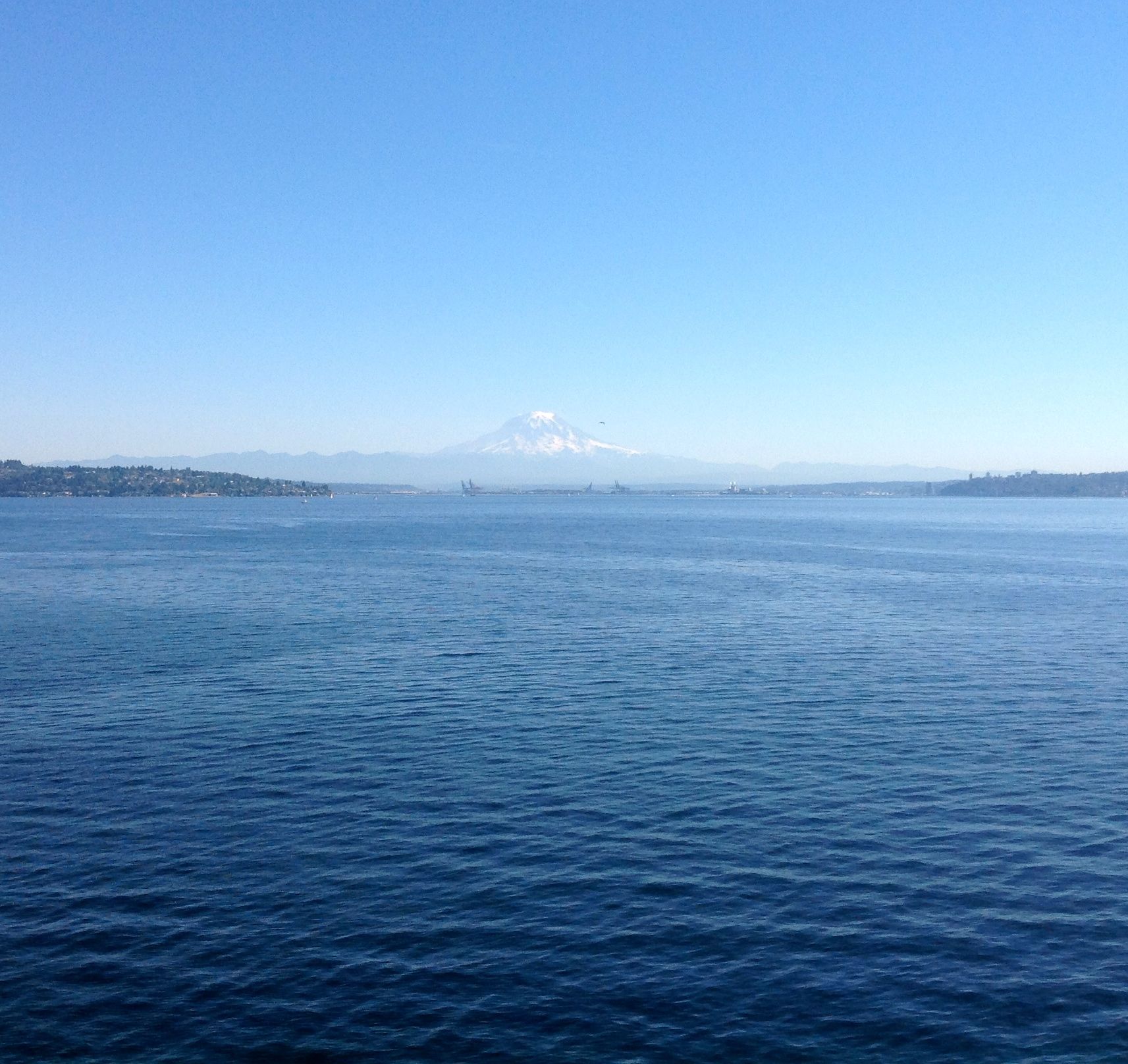 Orenco Station Station in Hillsboro was our next gig in the area.
They have very good food and treated us very well and we had a reunion of sorts with Colleen's cousins, and a few family members and friends who drove all the way to Hillsboro.  Very fun night!
The next day, we were off to Stevenson, Washington up the Columbia Gorge to play at their library.
This is a beautiful library with a nice room for music and programs on their ground floor.
This room had a display of colorful and quite artistically designed quilts from local quilt makers.
We presented our poetry music for this event & this time, we added pictures on a screen to display the poems above and behind including some relevant pictures placed next to some of the poems and writings.
Folks were quite taken by this and patient as Colleen was learning to forward the slides remotely while at the same time singing, playing cello and forwarding her own music - it now is becoming effortless as we adapt this piece into our presentation.
Tina Smith is Stevenson's librarian.  She has been involved in the Vancouver, Washington Library system for many years in a range of capacities, including in administration.   Tina has a wealth of knowledge regarding the library system and the communities they serve along with experience presenting a range of programs for diverse communities.
We'd like to thank Tina for inviting us to present our program and for the great feedback!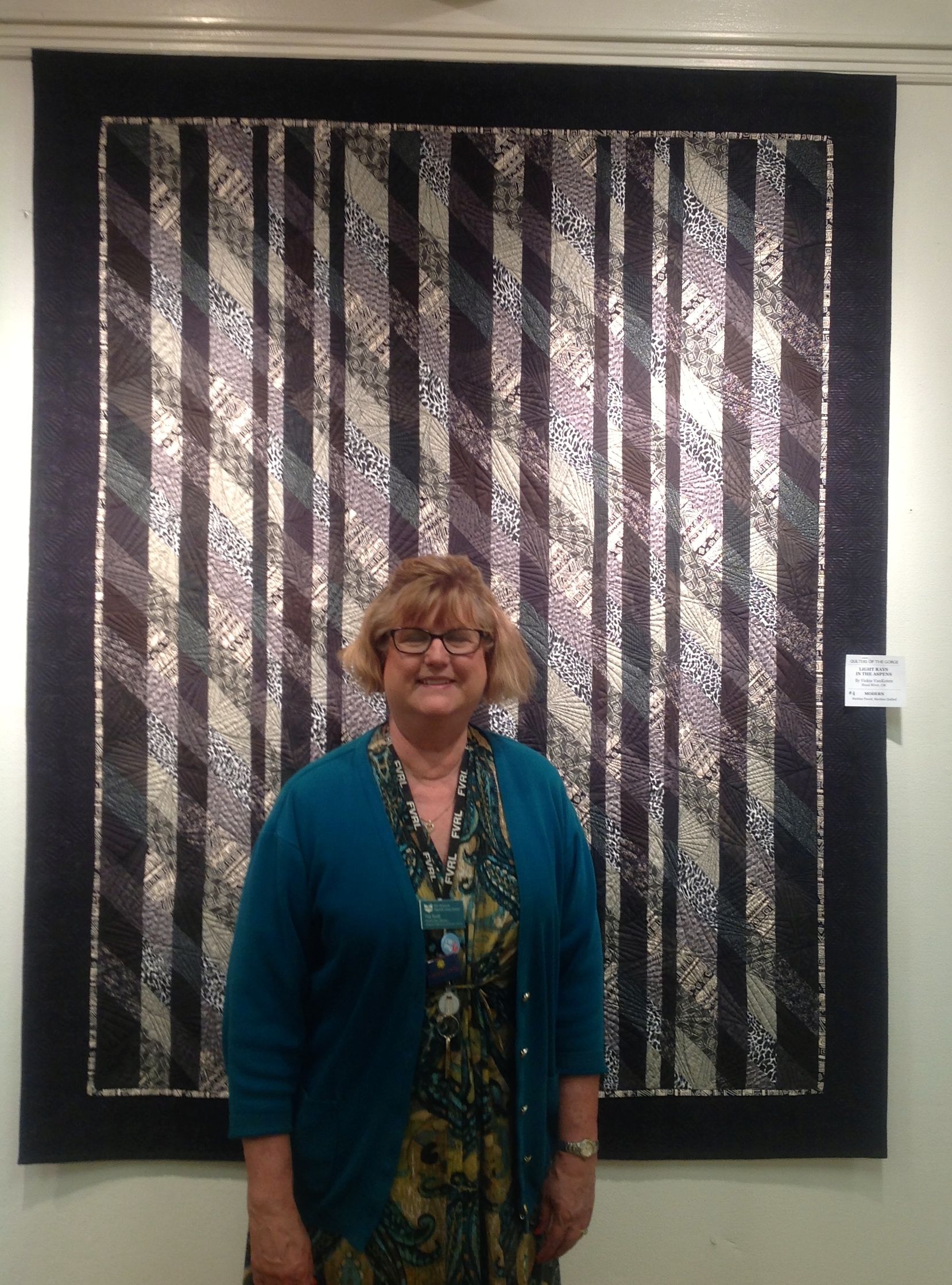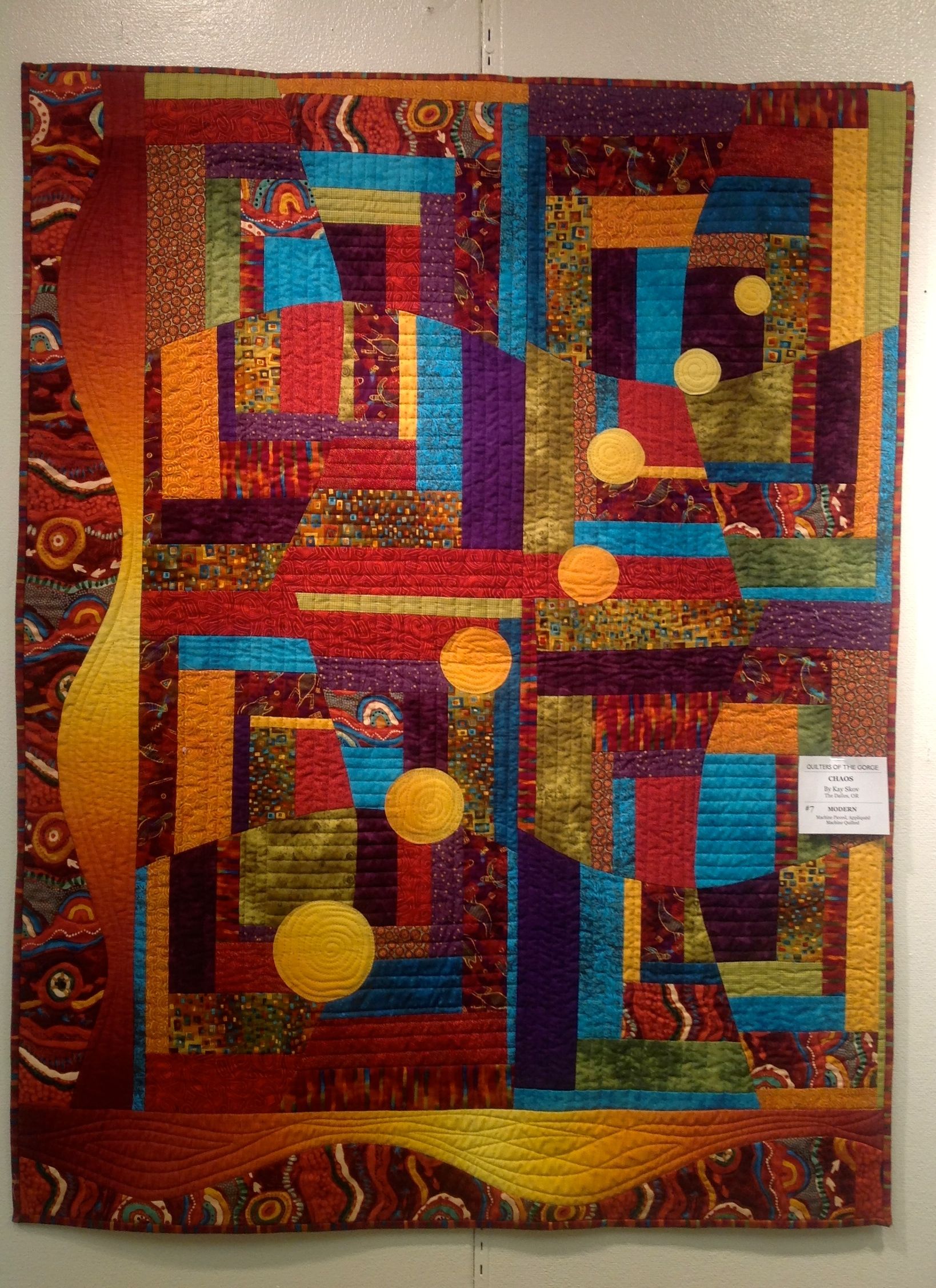 We'd also like to thank our dear & long-time friend Susan Gordiner for coming up to Stevenson and helping us set up and break down and for camping out with us the night of our performance in a nearby campground.
The next day, we decided to go across the Bridge of the Gods to the Oregon side of the Columbia Gorge to hike up Eagle Creek.
Eagle Creek has a special place in our history, it is one of the first hikes we took together back in September of 1980.
Chris was 'hired' by Colleen to be the drummer in a quartet she had just formed.
By the time we took this hike, we had played several gigs together and had been getting together as "friends"
This hike was the beginning of our journey together as 'mates' as we finally told each other about how we felt.
Ahhh, young romance!
Eagle Creek is still one of our favorite hikes as the trail follows the creek on a gentle upwards grade.
There are several falls, bowls, cliffs, old growth woods, canyon views and the clear beautiful deep green color of the water makes this a primal pick for best hike.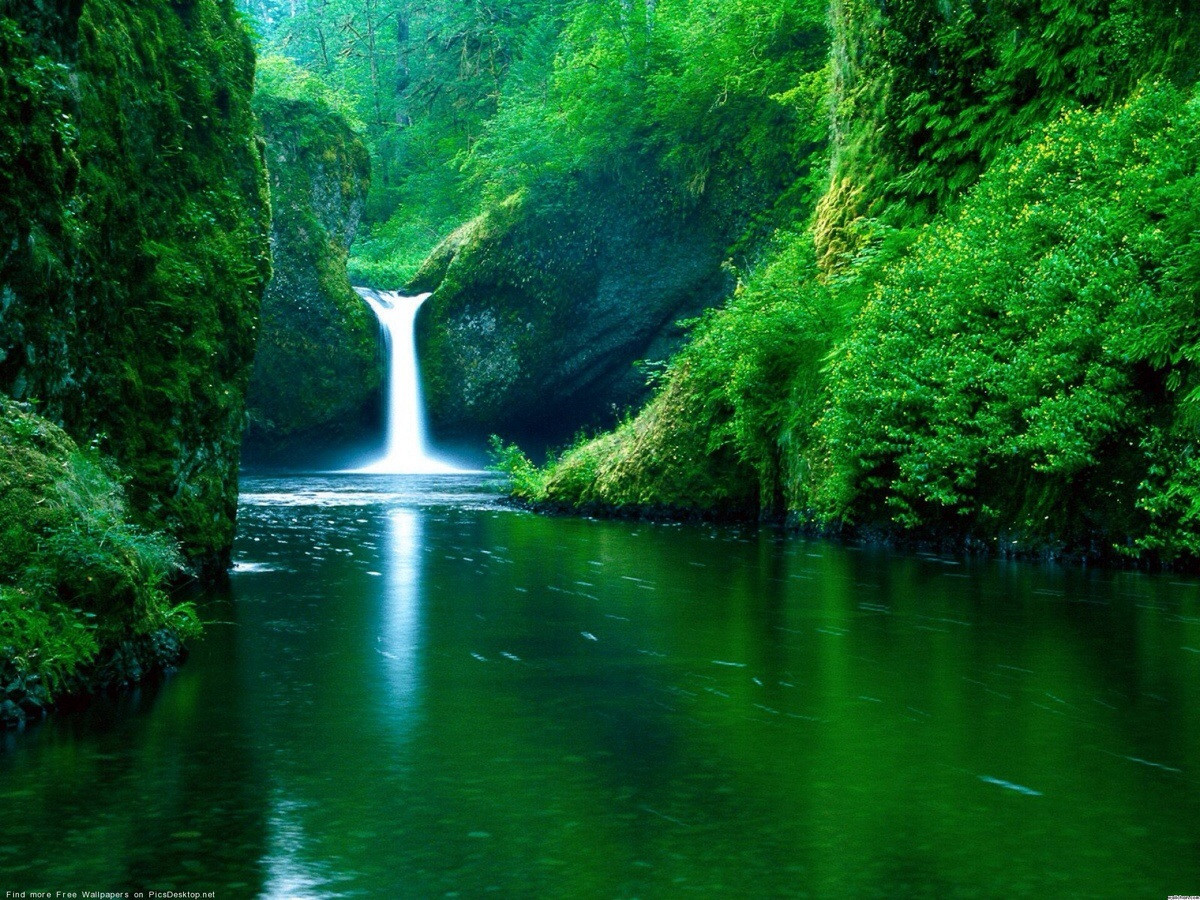 A few more gigs in the area before moving on down the Oregon Coast.
Bijou Cafe in Portland - Great Food!! The Bijou Cafe is known for it's breakfast and is usually only open for breakfast.
They open on weekends in the evening for dinner & music - go to bijoucafepdx.com for more info.
Rhododendron House Concert along the beautiful ZigZag River with Jack and Bobbi - former owners of Noah's Wine Bar in McMinnville and folks who have become our friends over many years of playing music for them at Noah's.
We played on their deck overlooking the Zigzag  River  which provided us with a steady soft stream sound to enhance the afternoon's music- the weather was fantastic for this event - and this lovely old historic cabin had a story book quality to it, providing a comfy ambience.
Many thanks to Bobbi & Jack for being such great hosts!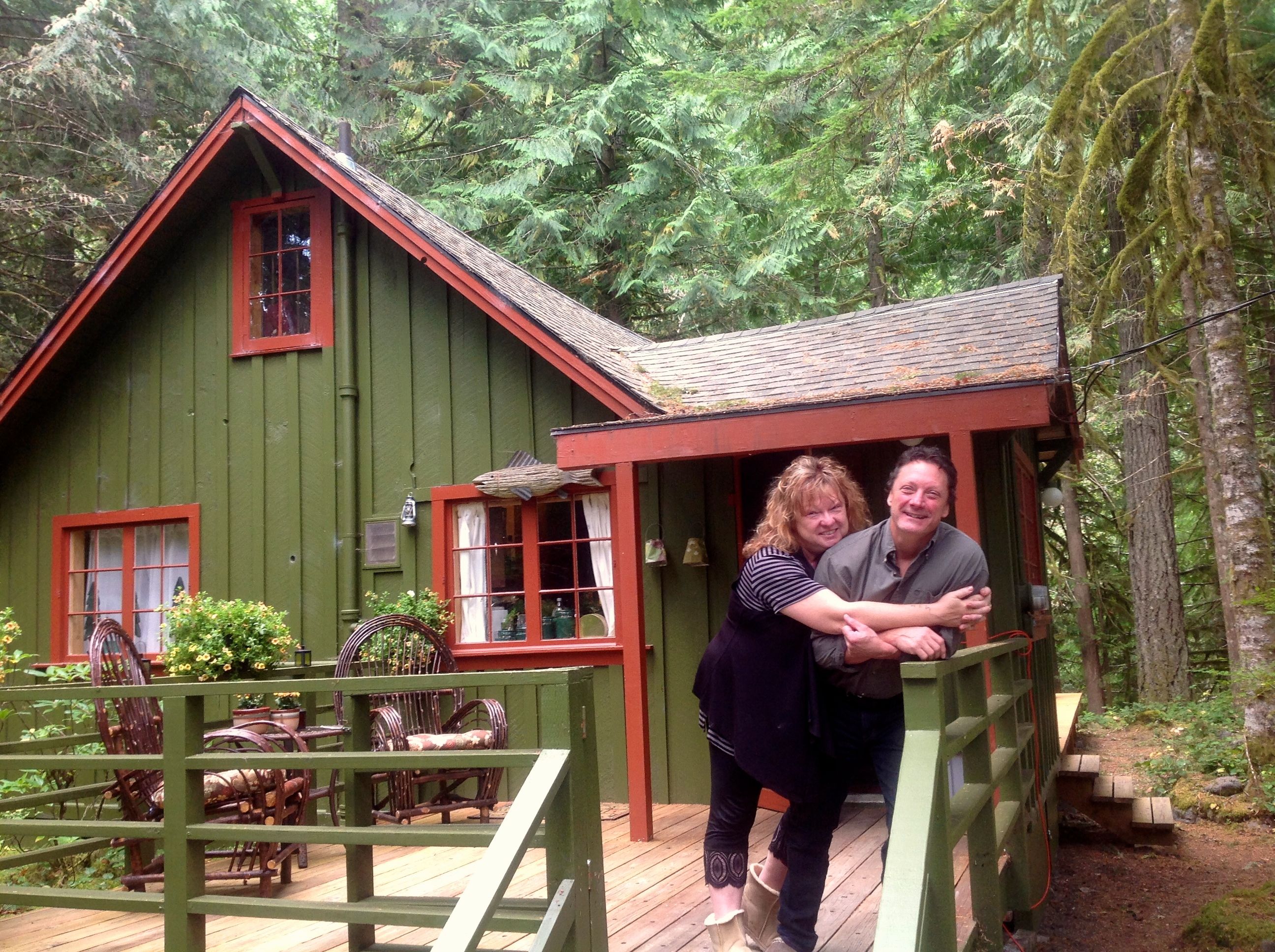 After leaving Jack & Bobbi's, we went on a beautiful hike in old growth forest along the Salmon River - then on to Kahneeta where we stayed the night in their campground.  Kah-nee-ta is on Warm Springs Indian Reservation on the east side of Mt. Hood.
We used to escape the rain in the winter and drive to Kah-nee-ta to swim in their beautiful warm springs pool along the Deschutes river and surrounded by interesting rocks and plateaus.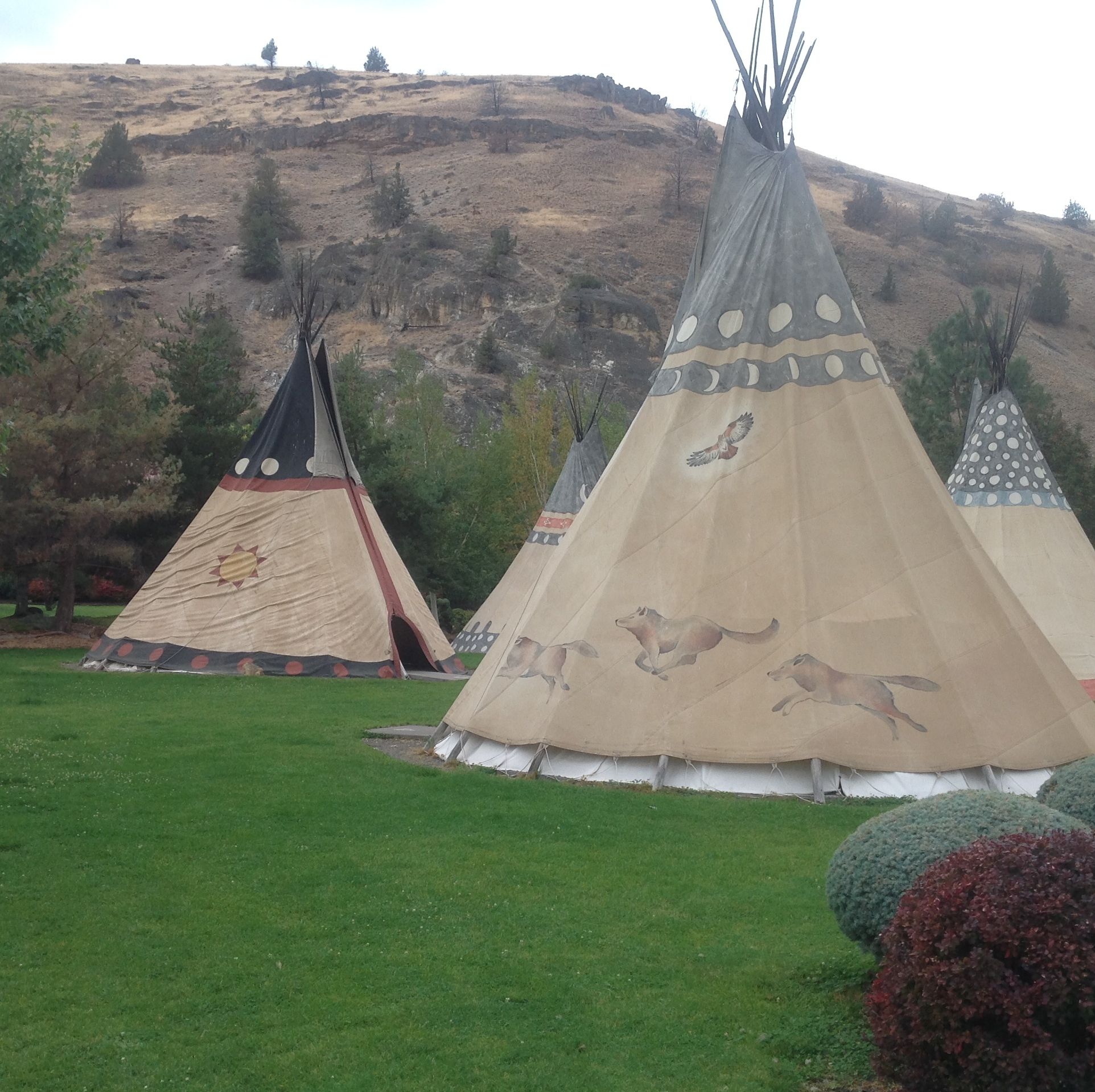 Ahhh, Timberline Lodge - we were fortunate to arrange a trade for a one night's stay in a beautiful room in the lodge and dinner in exchange for an evening of music on the balcony level of the lodge next to the Rams Head Bar.
The acoustics for music here are superb and this lodge is certainly a Primal Mates pick for best Lodge on a mountain.
Colleen played music here often in the mid-late 70's into the 80's and was happy that folks at the lodge were open to this arrangement.
This lodge is so incredibly beautiful, it takes our breath away.
Timberline Lodge, which opened September 28, 1937, is a hand-made wonder. Just about everything in the building from door hinges to furniture is hand-made, mostly from local materials. In early 1936 as the Great Depression raged, the Works Progress Administration (WPA) undertook what many would call a "make-work" project to build a lodge on the south side of Mt. Hood in Northern Oregon. This lodge is certainly a national treasure and shows a a better side of what our government can do.
The views from the lodge are awe inspiring both in looking up close at beautiful Mt. Hood from 6,000 feet up on her southern flank.
Looking south, you can see Mt. Jefferson and several other cascade peaks, as well as panoramic views east to west.
Many thanks to John Tullis in helping arrange this great trade.
                                  Looking out the window of Timberline Lodge to Mt. Hood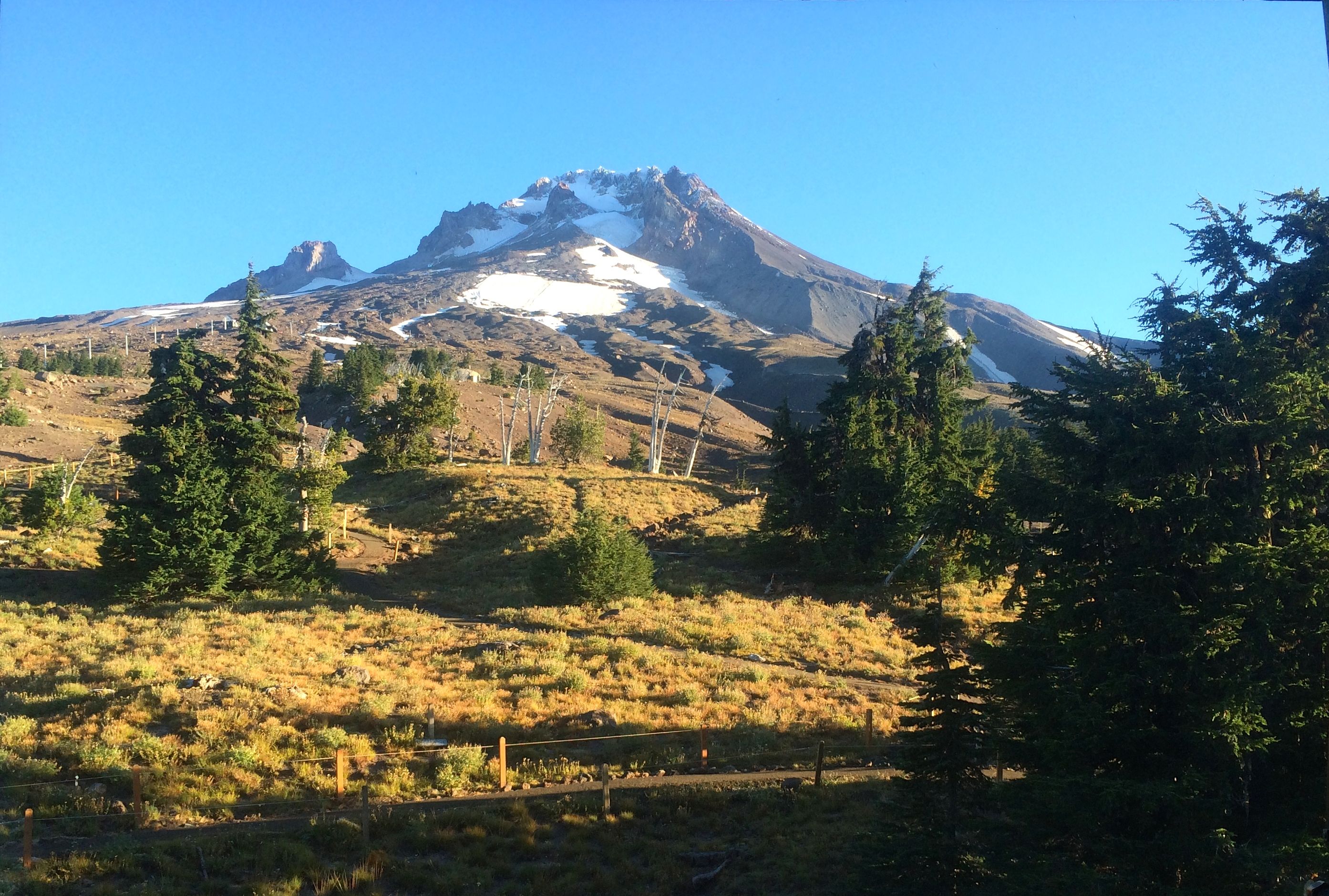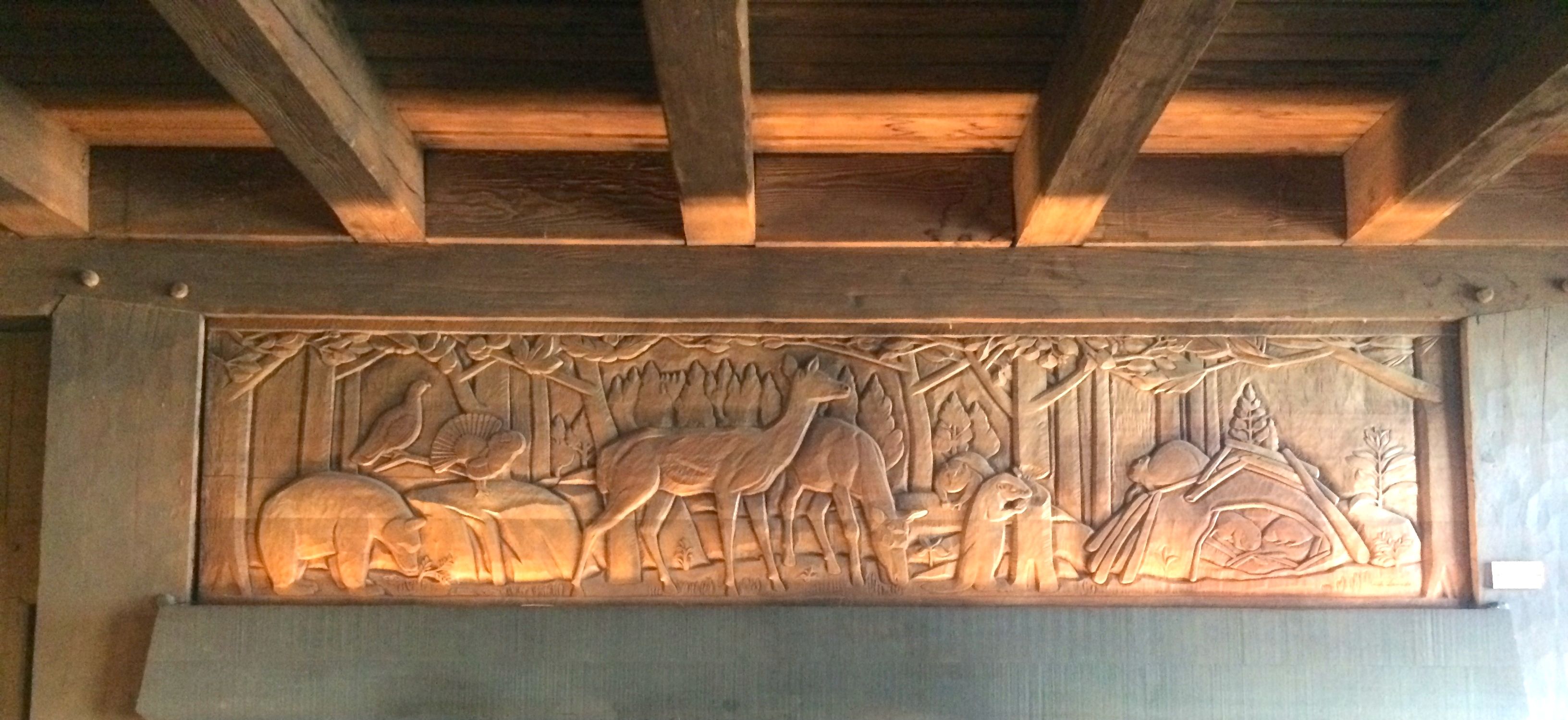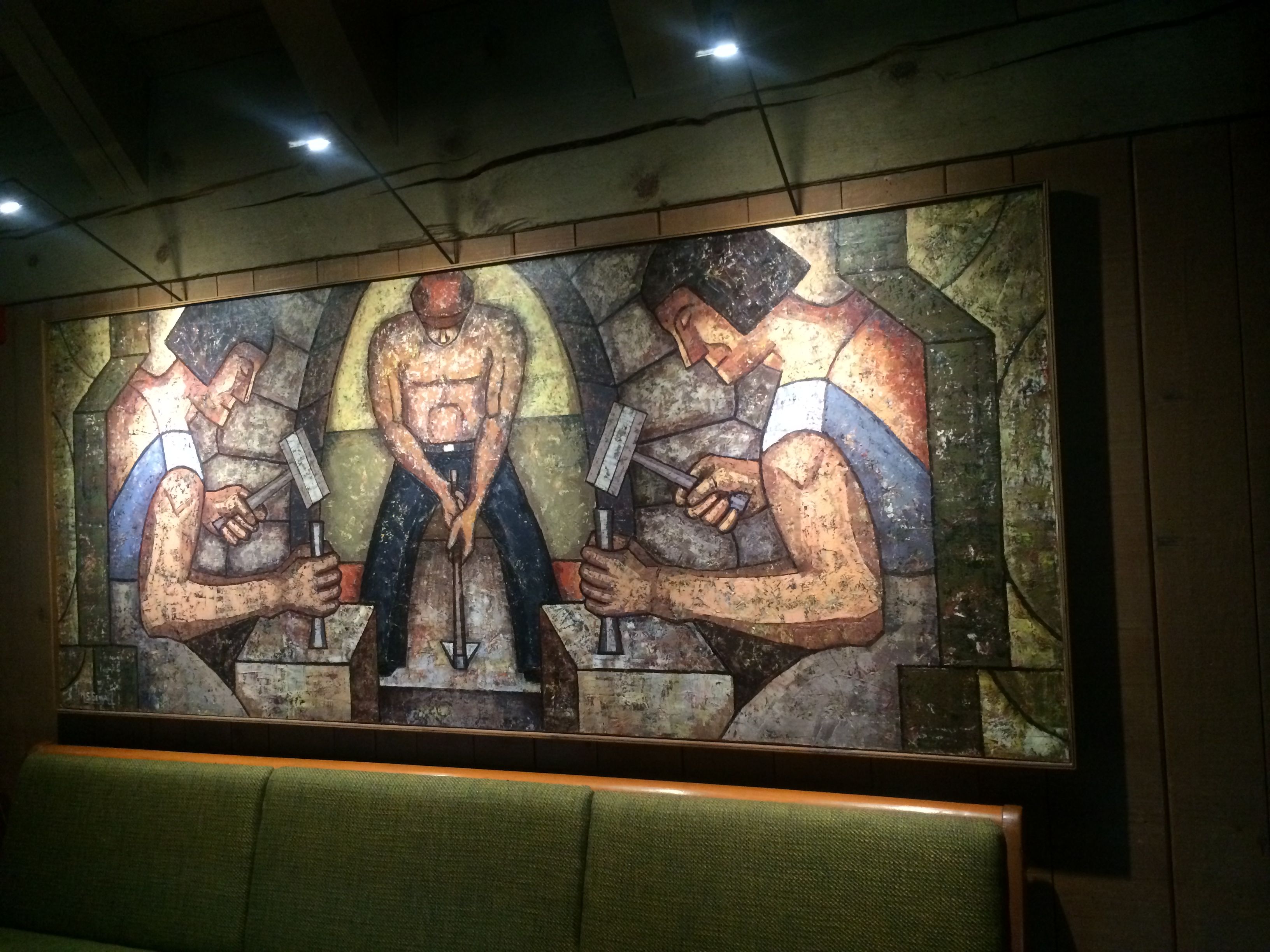 On Saturday, we left Timberline to go back to Portland for our last performance at a house concert hosted by our dear friend Stuart.
We love going to Stuart's house.  He has whimsical art on his walls, he designed his house just the way he wanted it, he's artistic and brings this to life all throughout his house.  And we love playing music for him and his friends because they are such great listeners and participate, in fact, this group made the best bird sounds needed for a particular piece we are doing on this tour,  " I Know Why the Caged Bird Sings". What a fun group of people!
Thanks Stuart for your great hospitality and great.... fun spirit!!