We had a break from our library performances in December, so we decided to take some time to see the deserts in southern California / Nevada.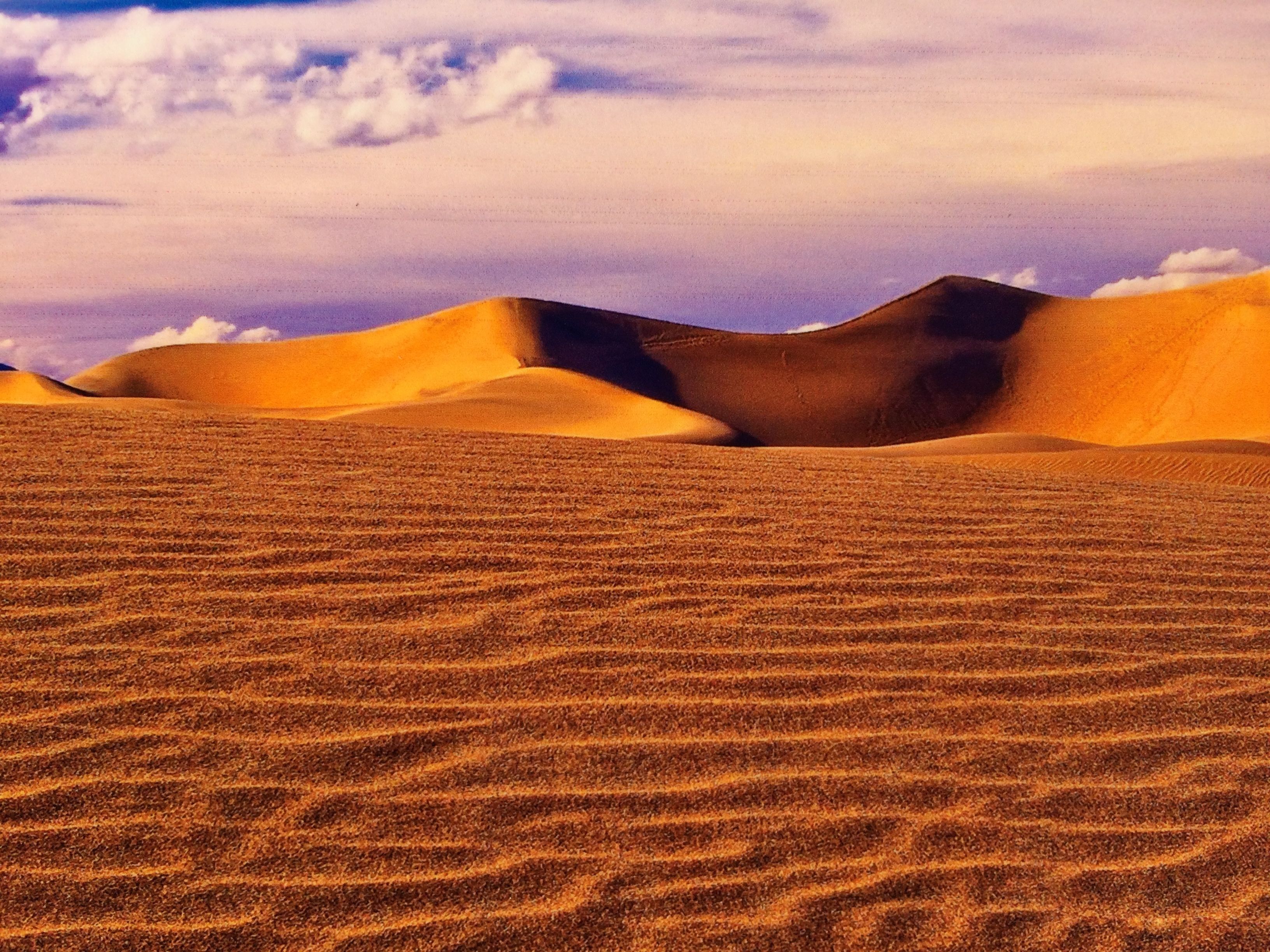 The contrasts, colors, geology & desert plants reveal a stark & prickly beauty.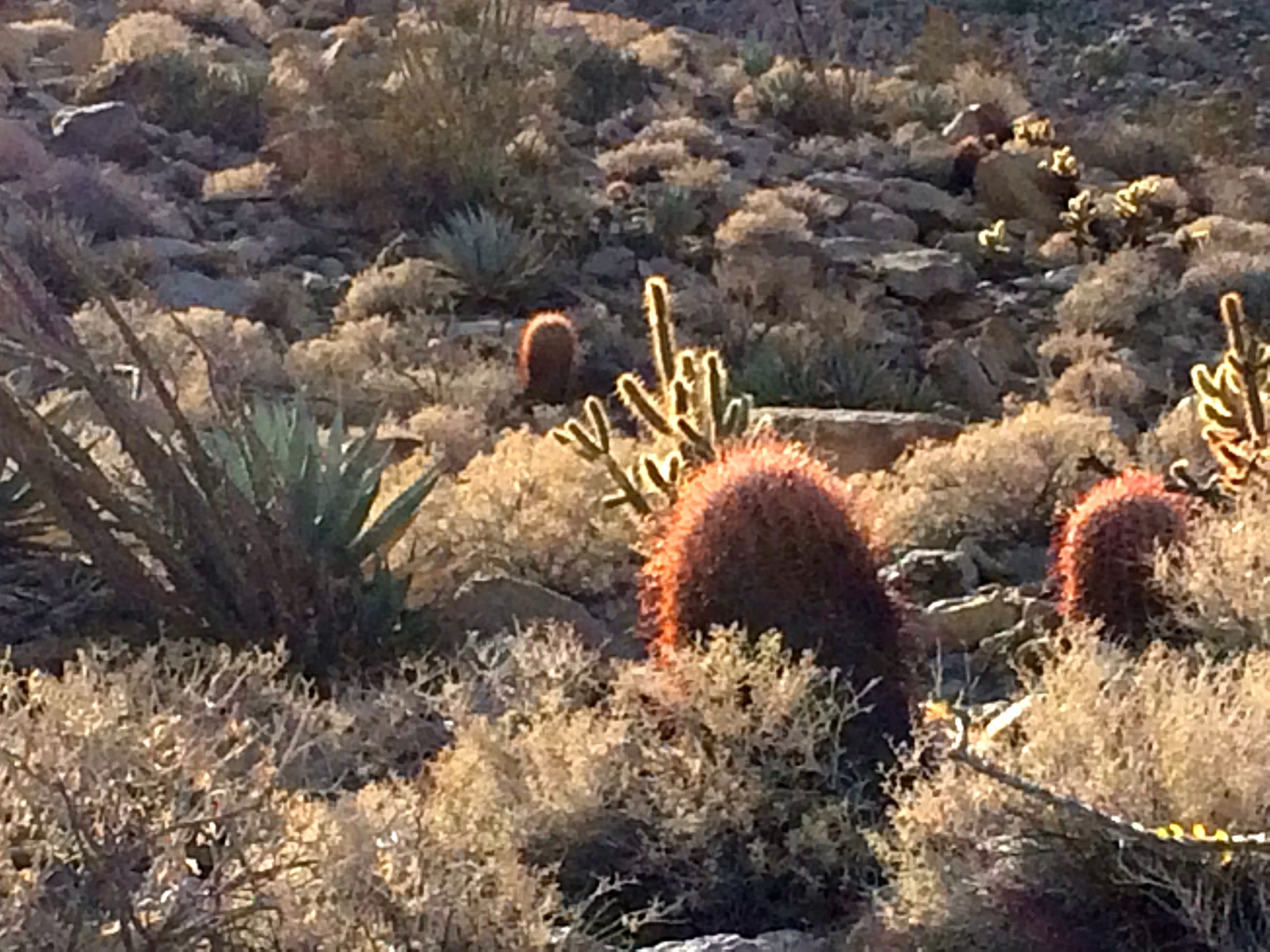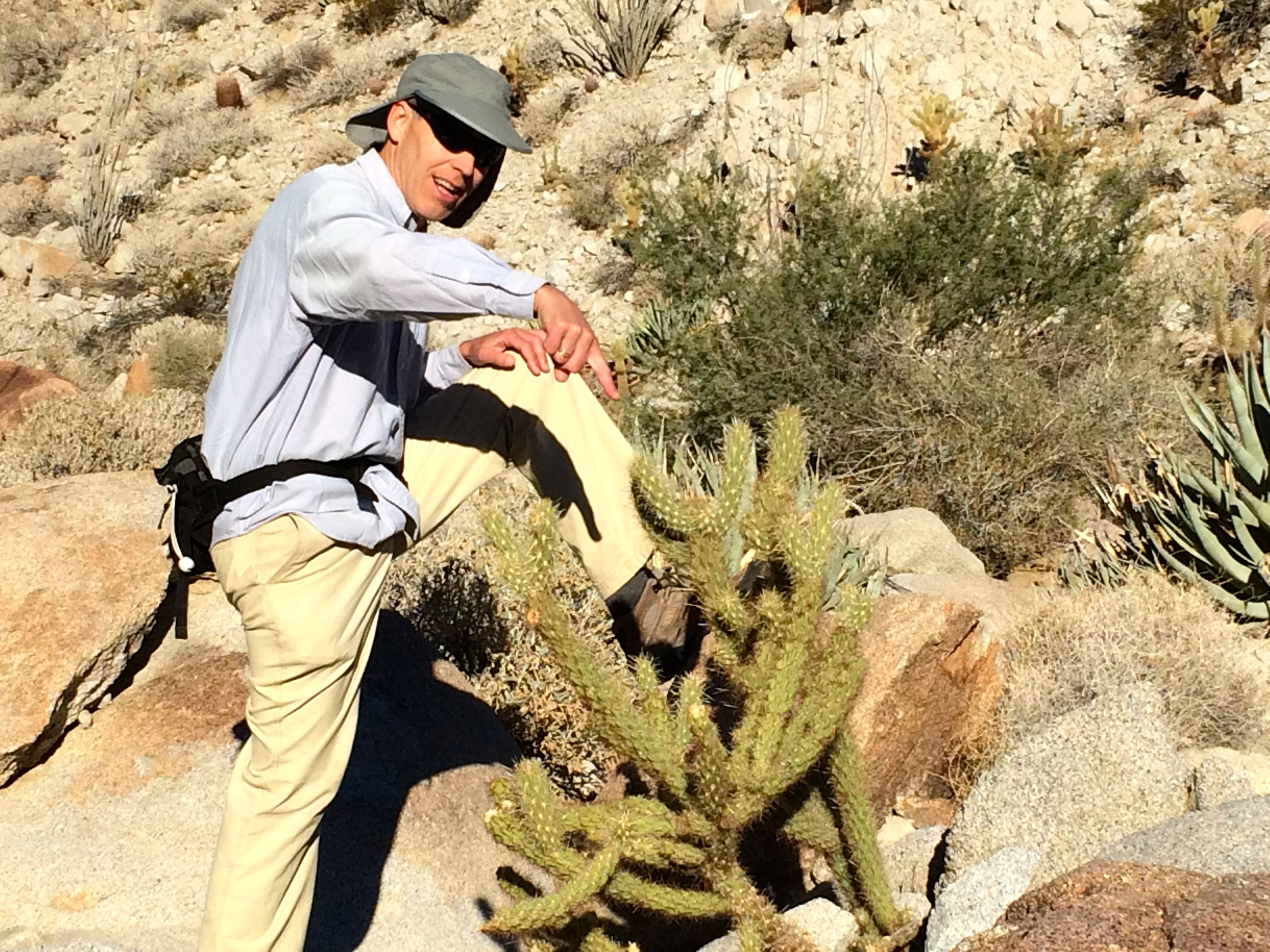 Hiking in these deserts at this time of year has been really incredible.... showing us how diverse & beautiful the desert can be. 
We even saw our first tarantula in nature in the desert near the Salton Sea.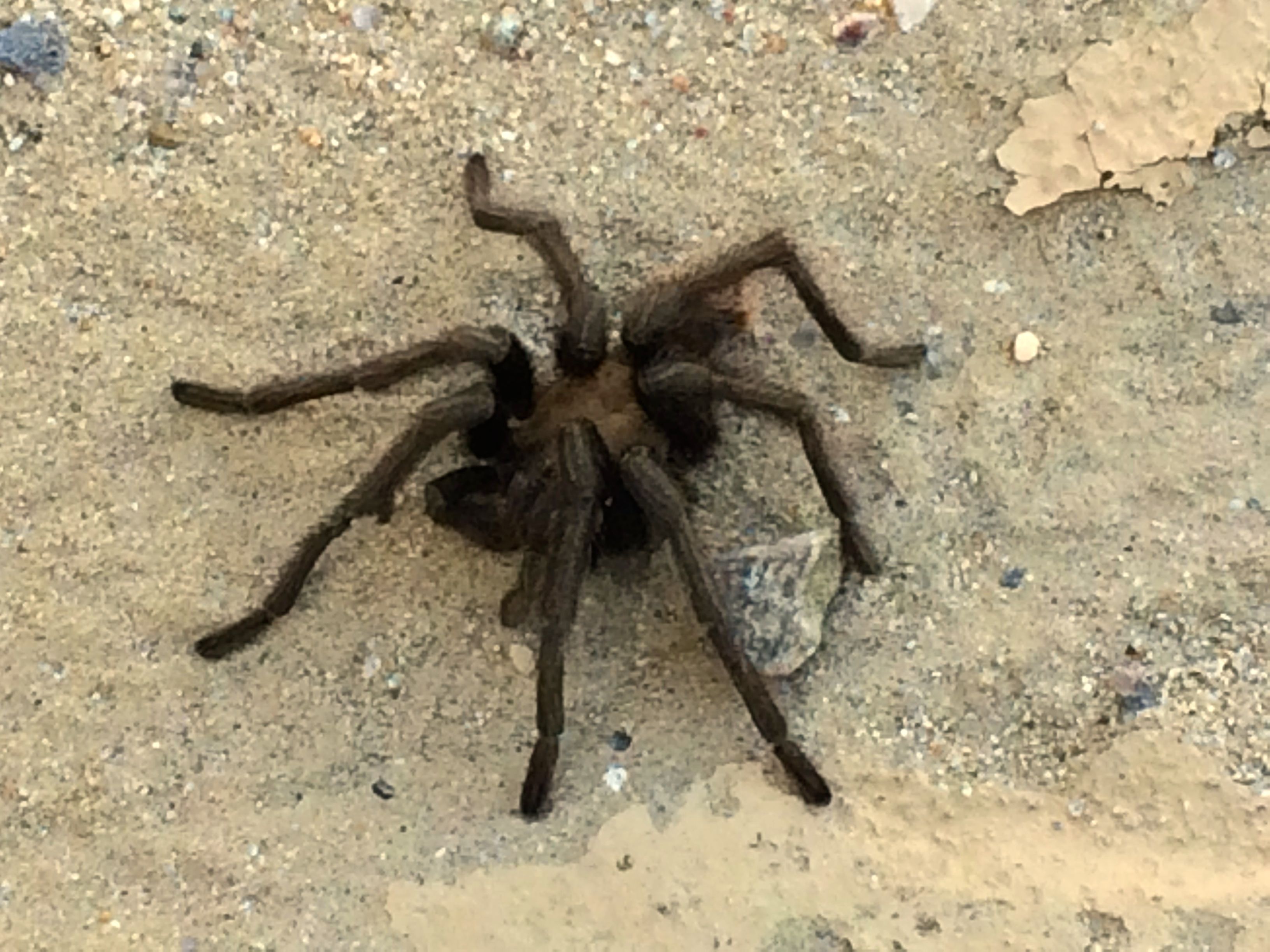 In the Anza - Borrego Desert, there are 6 types of rattlesnakes. 
We've seen a few rattlers on our hikes and we are relieved that they are not at all aggressive, and will not likely bite unless closely disturbed ie: if we picked one up or stepped on one...we hope to avoid both:)
.
We are practicing our mindfulness meditation walking in these deserts.
Our favorite areas to hike are the slot canyons, sand dunes and in or near oasis and wetland areas.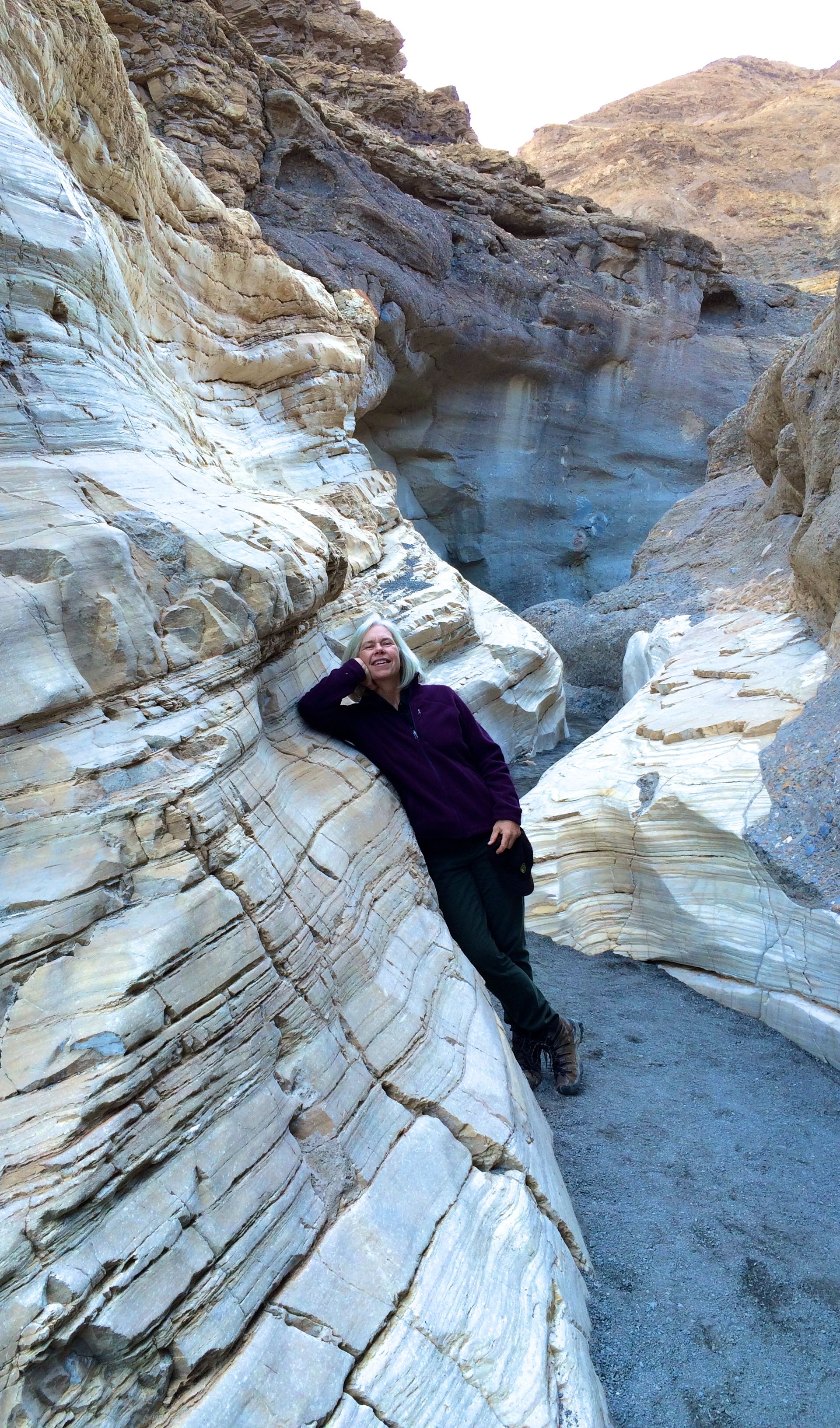 One of our favorite oasis areas so far is China Ranch just outside the SE corner of Death Valley NP. ( Chinaranch.com )
China Ranch has a fascinating history and walks both in the oasis and in the desert outside of the oasis are incredibly beautiful with a great variety of terrain & landscapes, including a slot canyon. 
The following picture we took looks almost like a mural, but this is how it really looks when looking out towards the desert from inside the date palm groves.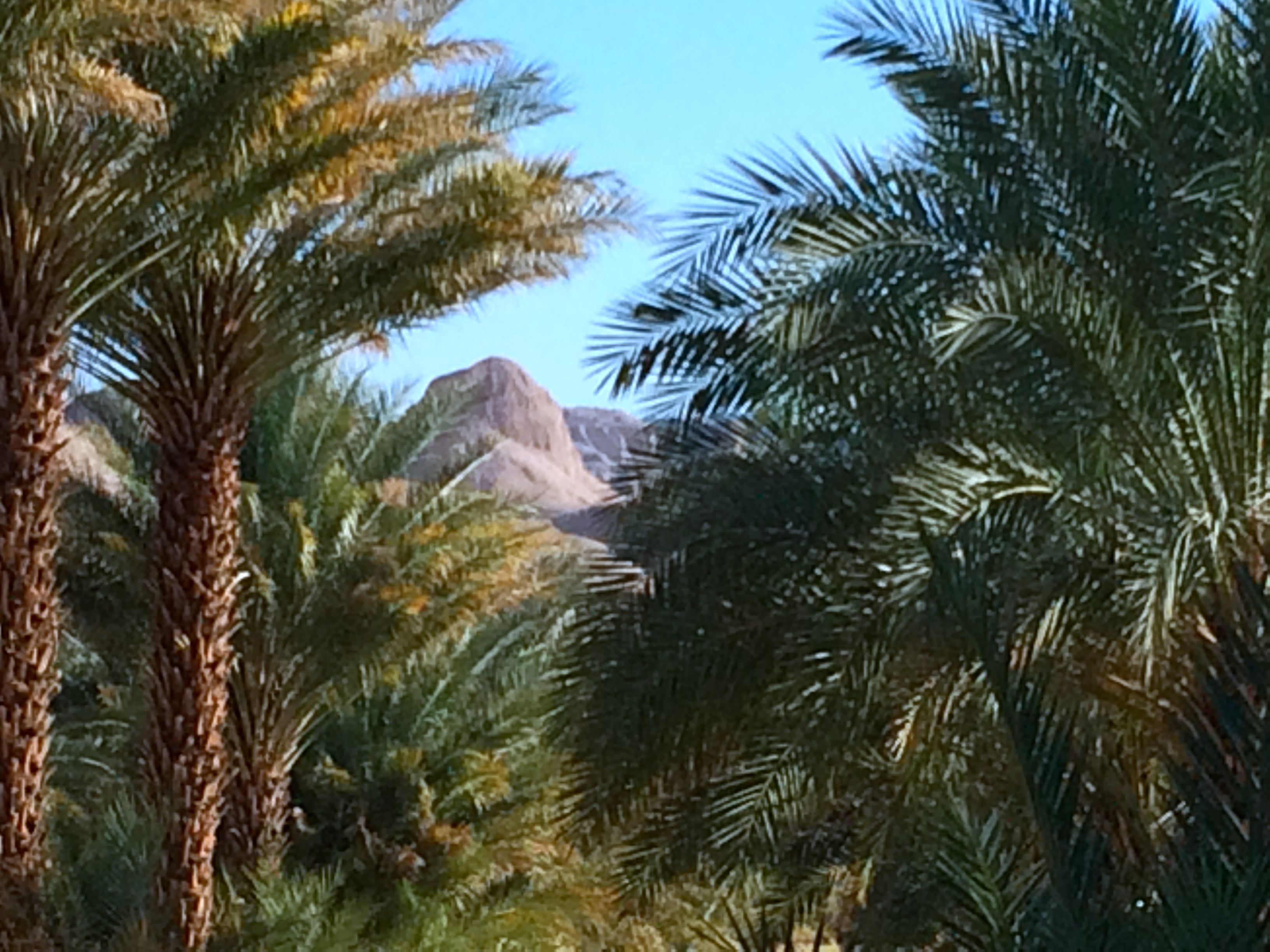 There are at least 12 types of dates grown on the organic date farm at China Ranch and we sampled each and everyone...umm...delicious sweetness!
China Ranch makes the best date shakes we've ever had and taste the best after our hikes in the desert!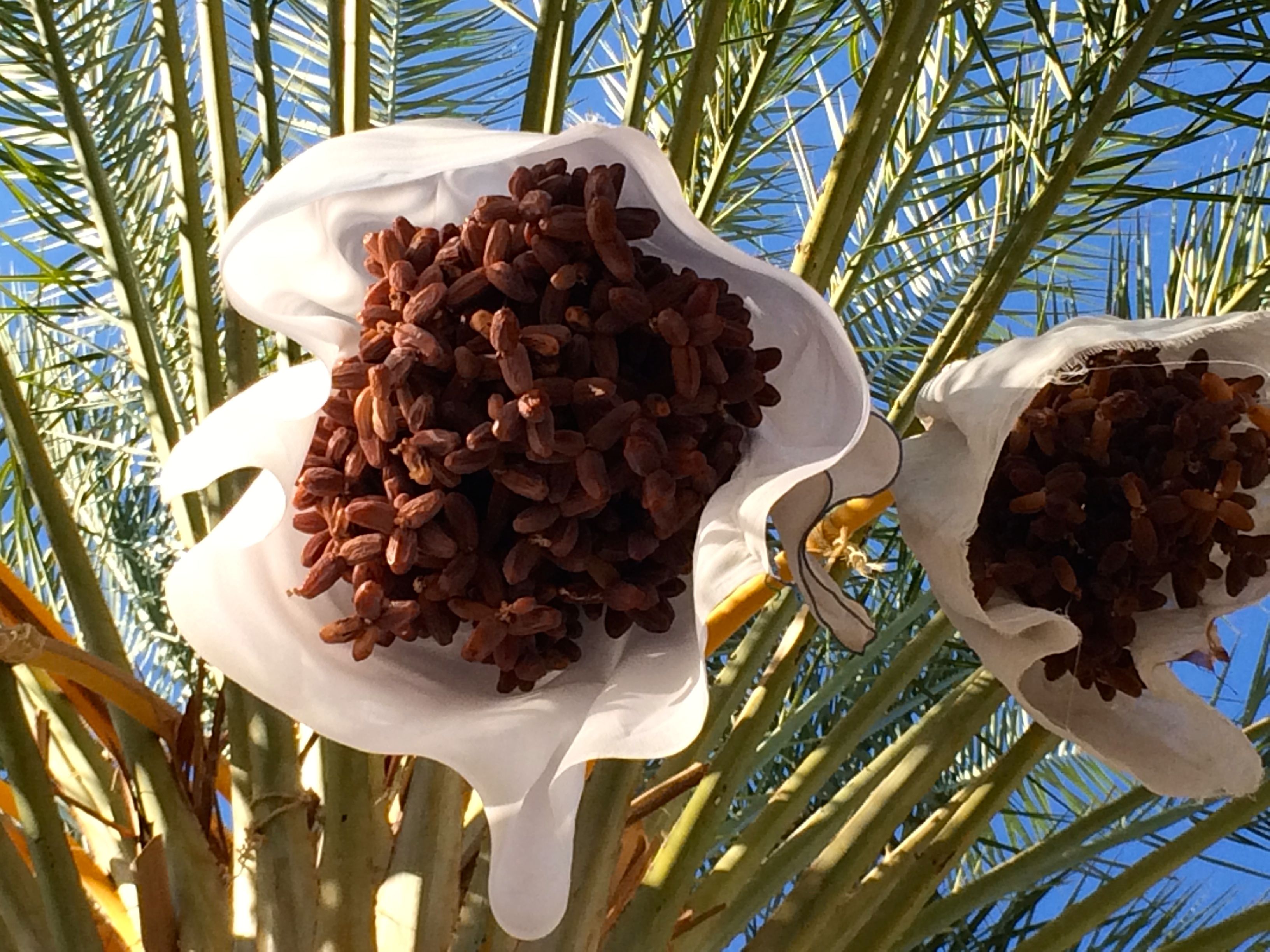 Just outside this oasis, the desert floor is surrounded by mountains with rock falls that are carried down to the valley floors.
The incredible range of colors in the rocks of this area are outstanding.
We learned that many folks come out to these areas to look for rocks, crystals and we met amateur to professional geologists fascinated by this area.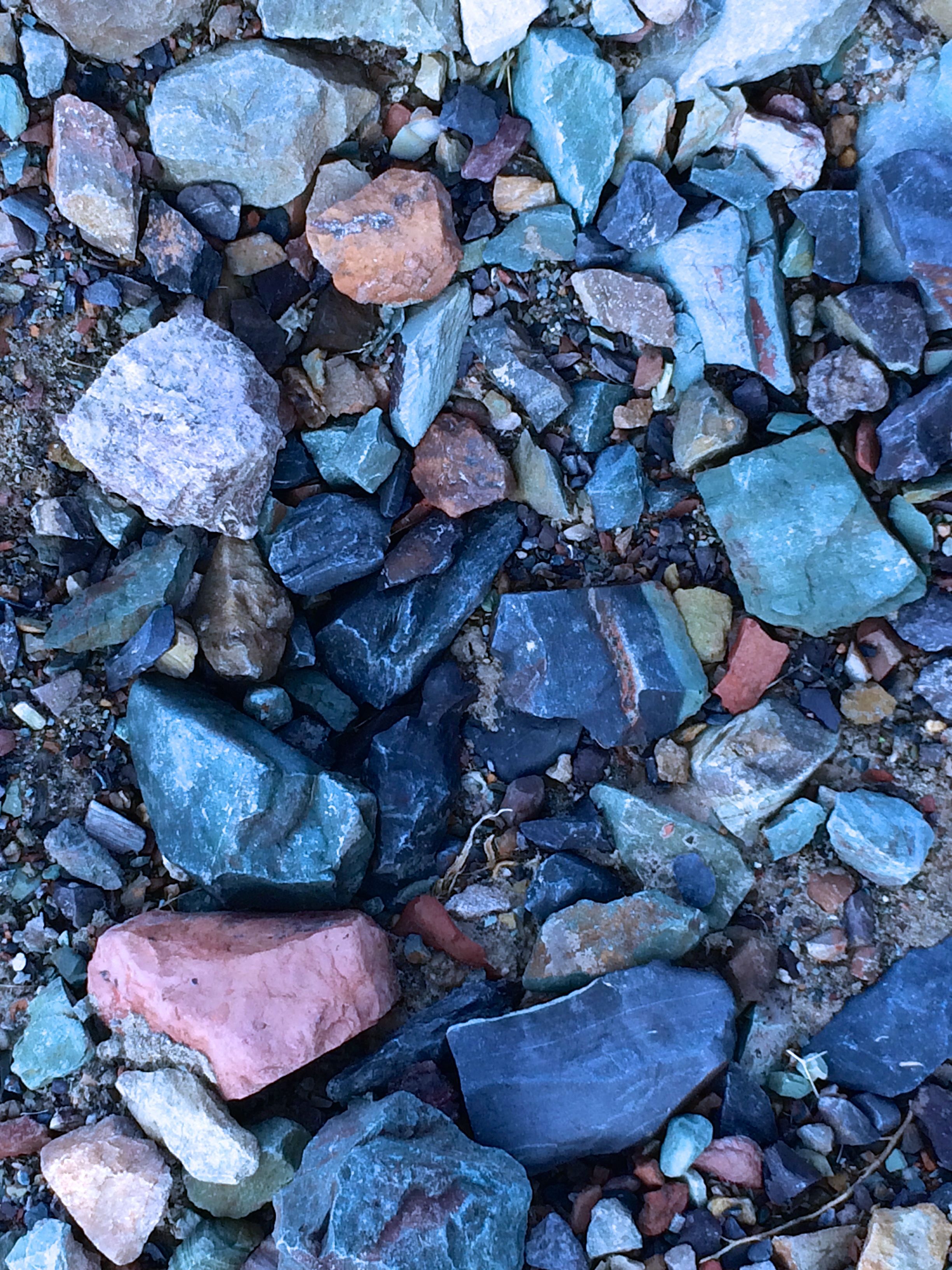 The Amargosa River runs through China Ranch and Tecopa.
This area is one of the few places along the Amargosa where the river is above ground, except during heavy rains and floods.
It seemed as if we had this valley to ourselves as we hiked several miles into the valley until the trail was engulfed by willows & cats claw....ouch!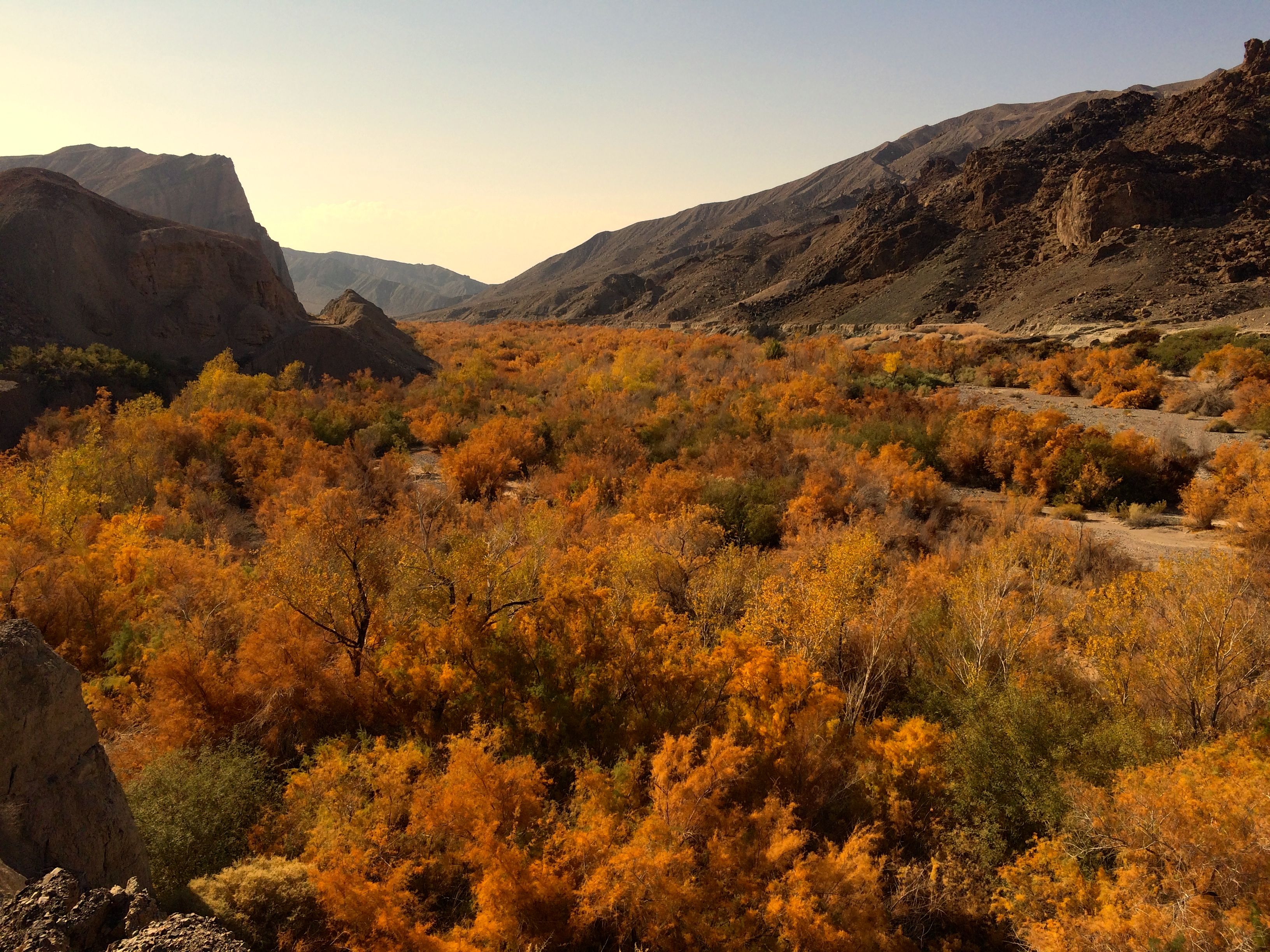 We were fortunate to find a desert bungalow near the town of Tecopa, CA with the help of our friend Dana back in Boulder.
The weather became chilly in December so we are very happy to have our little bungalow to stay warm and to use as our base of operations in exploring the surrounding desert & to have a place to prepare for our upcoming performances in January.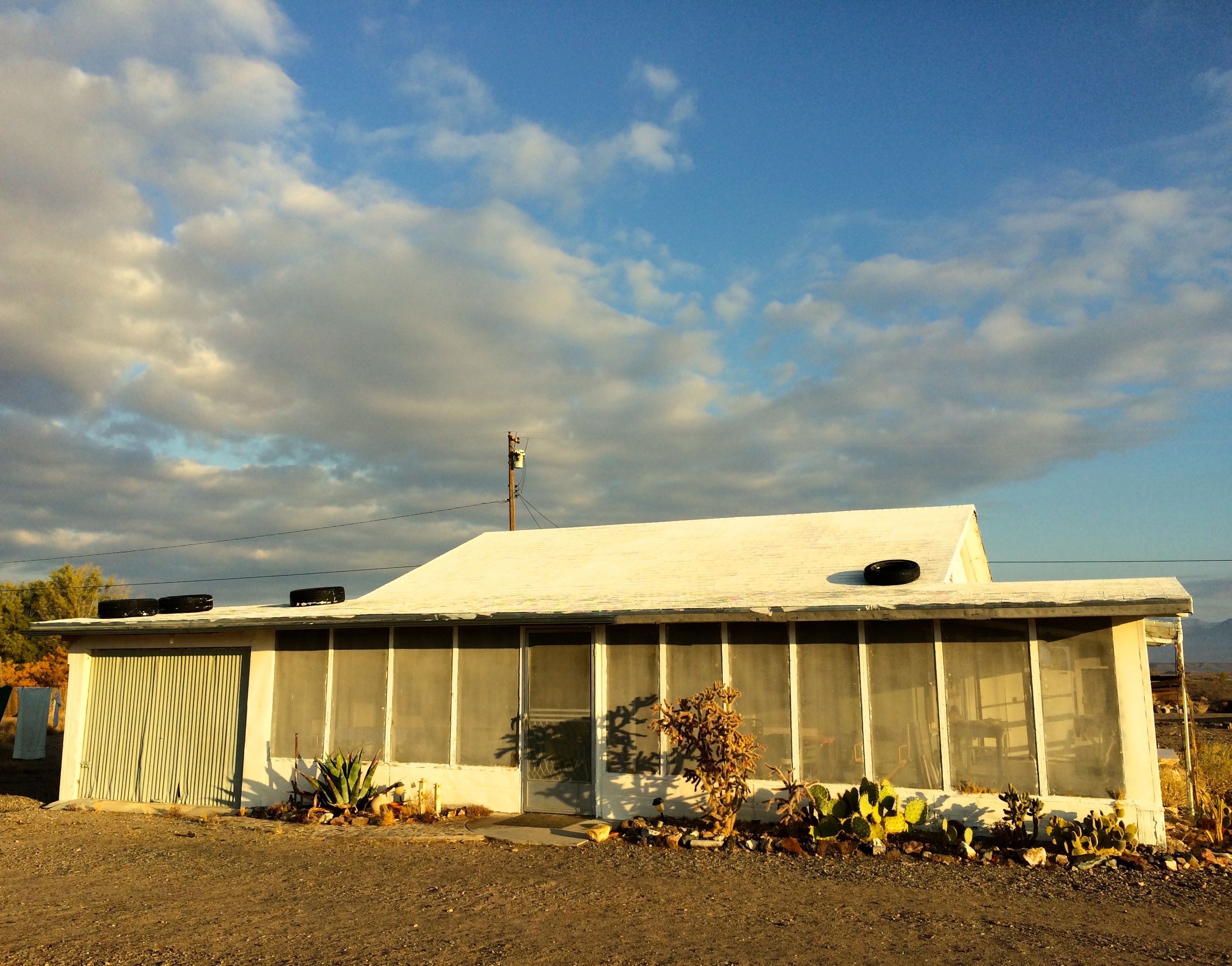 Tecopa area has several hot spring choices from natural pools in a wetland area of the desert to the county park hot spring pools which are currently offered free to the public.  How lucky can we get?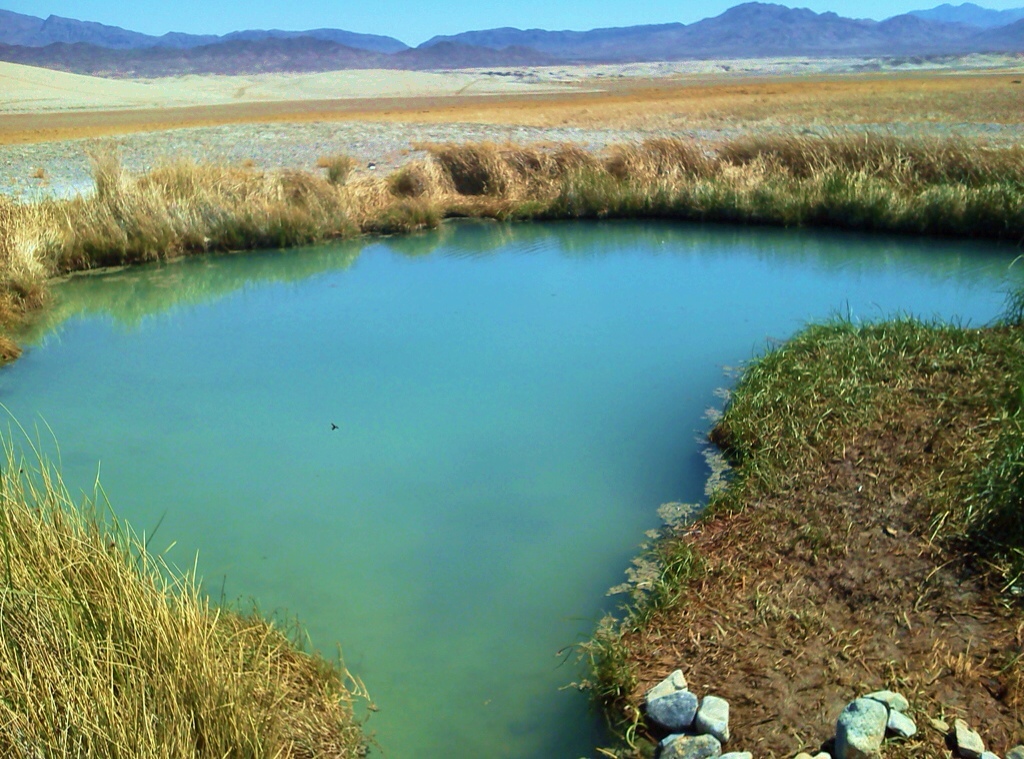 Tecopa is a remote little town and one of the most unique towns we've been through on this journey.
There is a tiny library, and a small community center where the spotty local wifi is centered.
There is no cell coverage in this area, so this month did remind us of what it was like before all our connectivity through the internet.
Unplugging was a nice change.
The only restaurant in town is Pastel's Bistro which happens to serve up great tasting food. 
John is the Bistro's chef extraordinaire and his partner Shelley is the hostess with the mostest.
They create a homey, comfortable environment, almost as if you are coming to dinner at their home.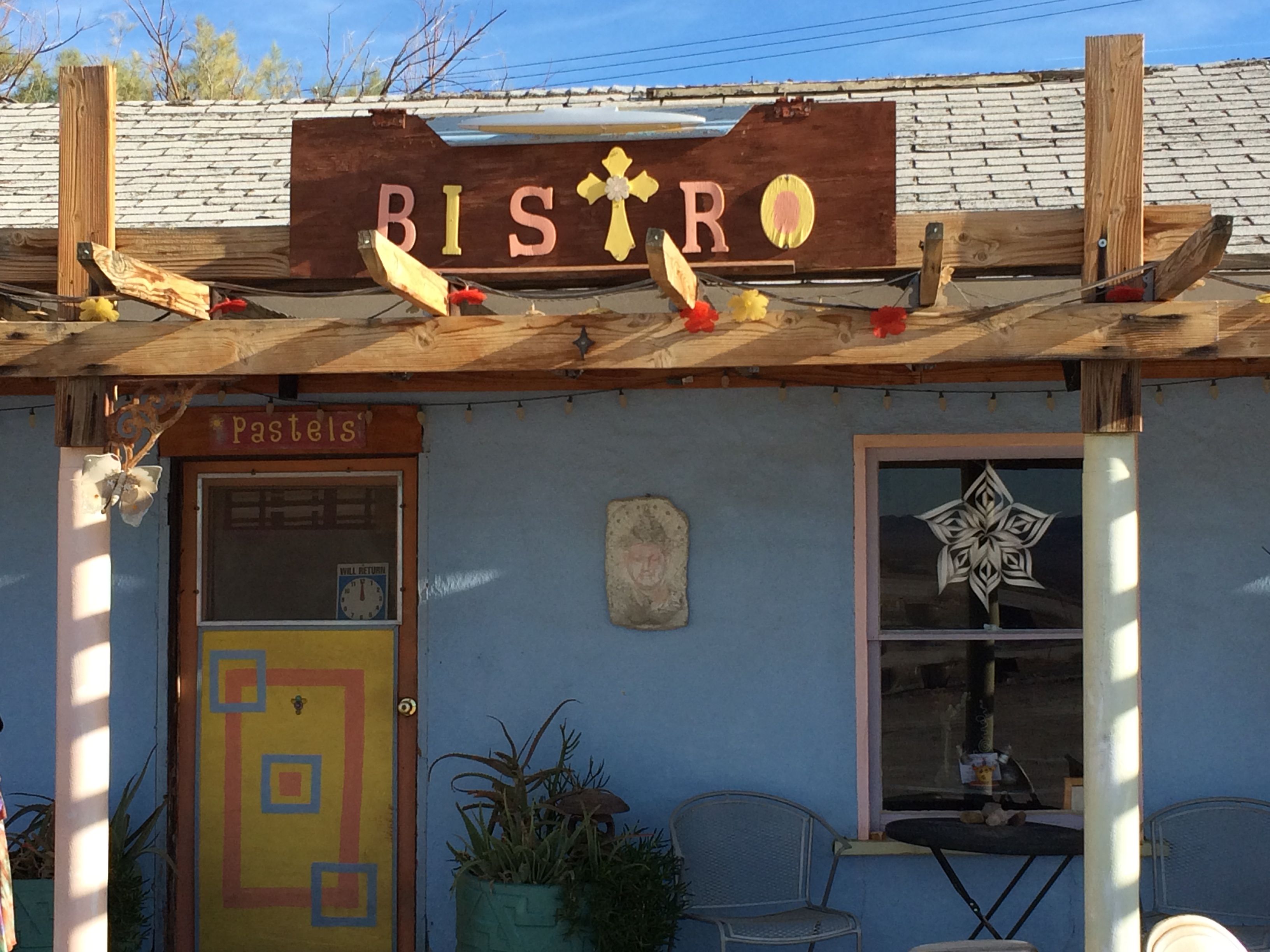 The Bistro is part of Tecopa Hot Springs Resort which offers lodging, hot spring soaking pools, art gallery, labyrinth, camping, hookups for travel trailers and RV's, star gazing and campfires at night.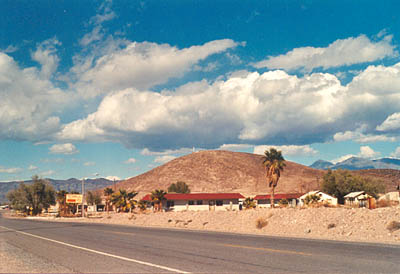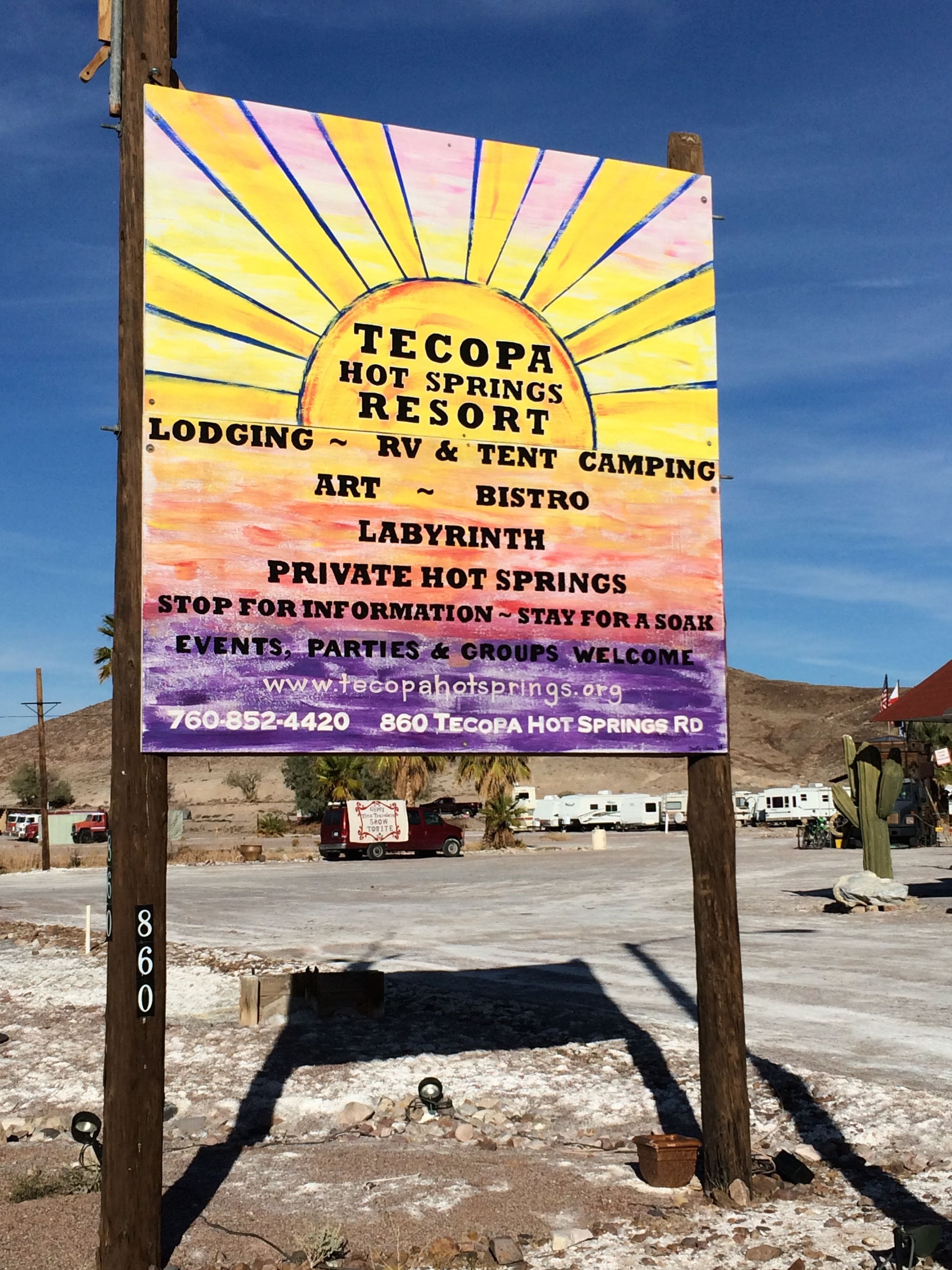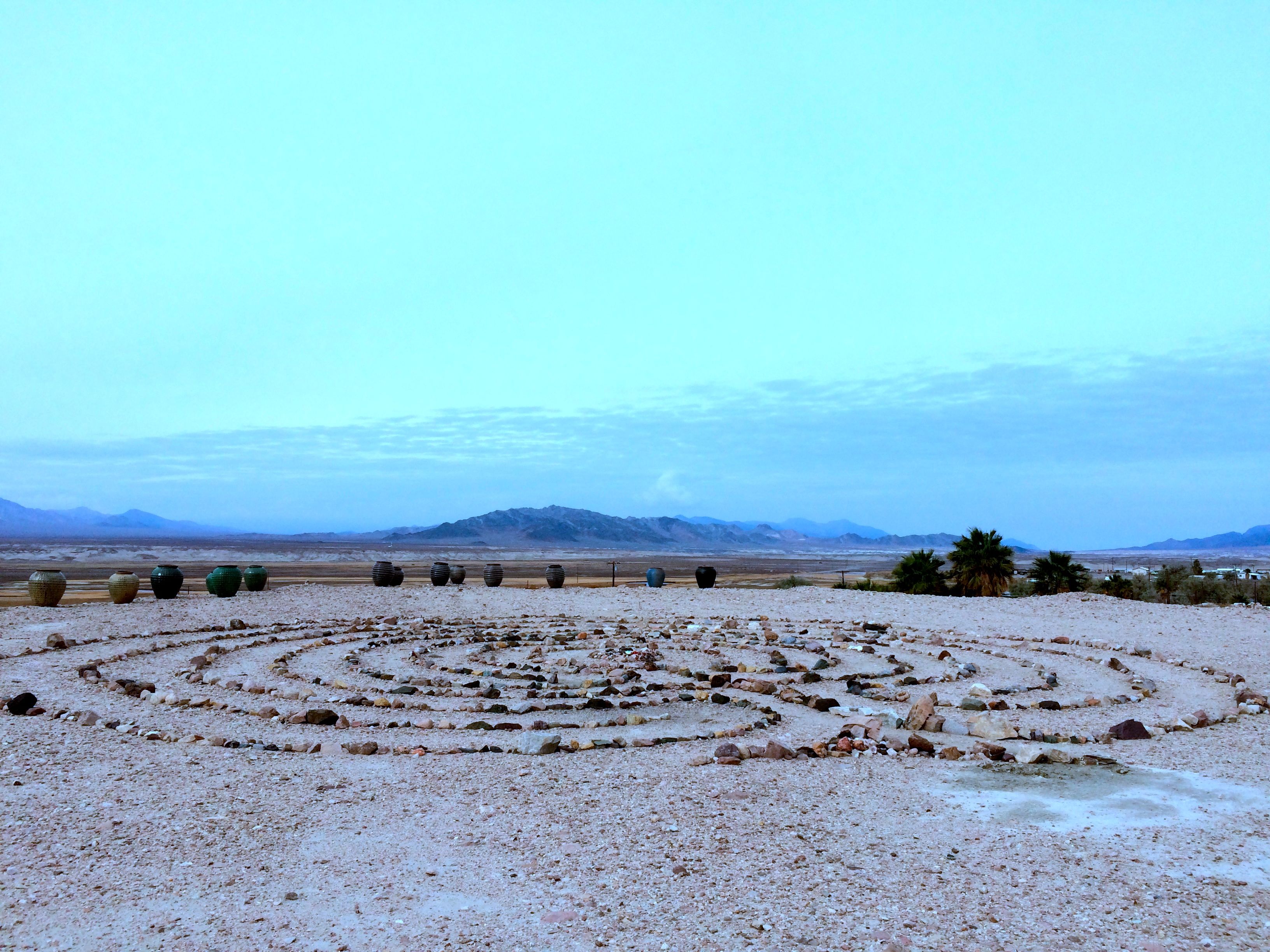 We played a well attended concert towards the end of our stay at Tecopa Hot Springs Resort Art Gallery.
 - this pic was taken inside the gallery before the performance.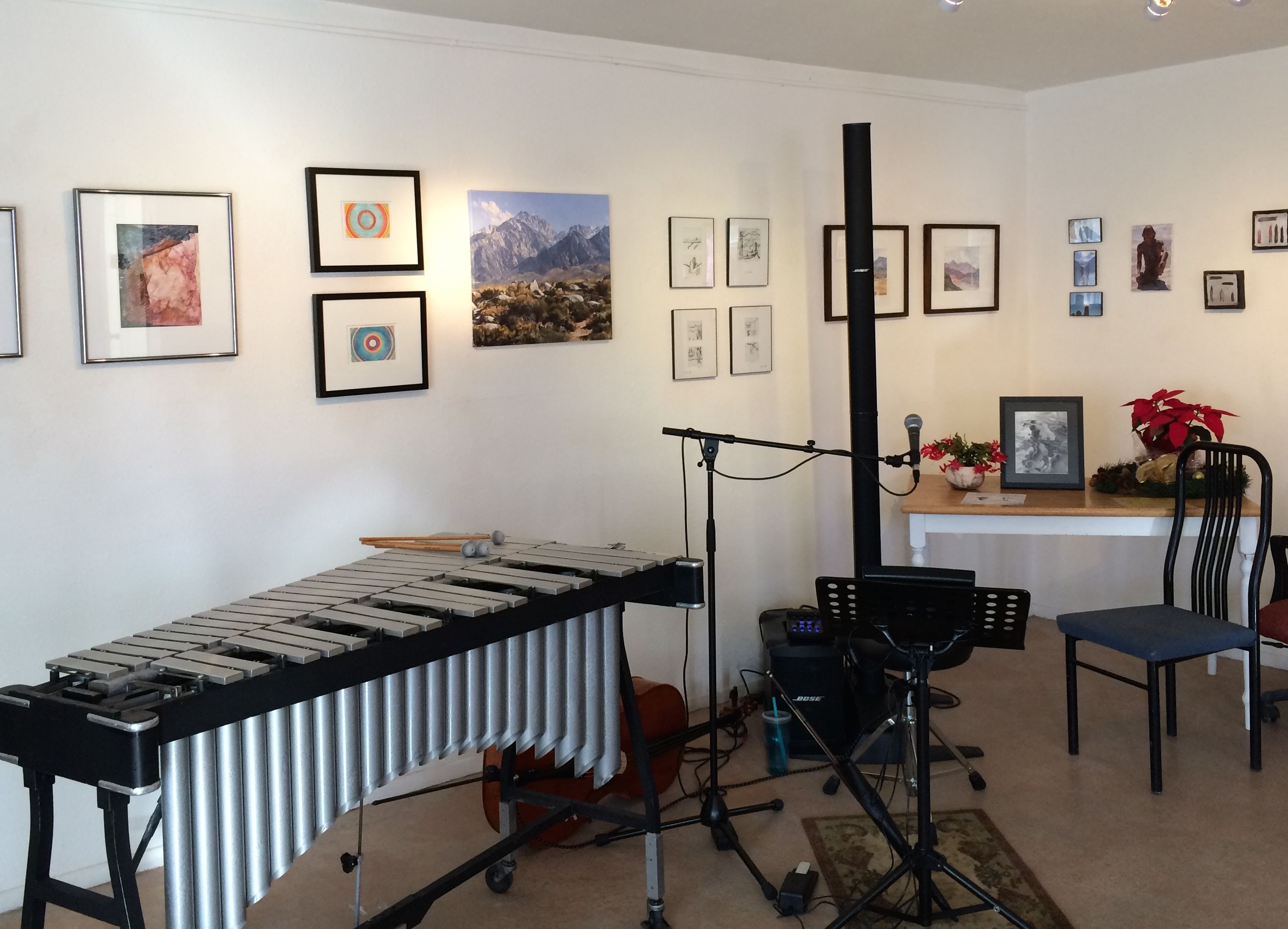 The Gypsy Time Travelers were holed up during our time in Tecopa.
We were happy to be able to see a couple performances, and we agreed that their vehicle was way cooler than ours.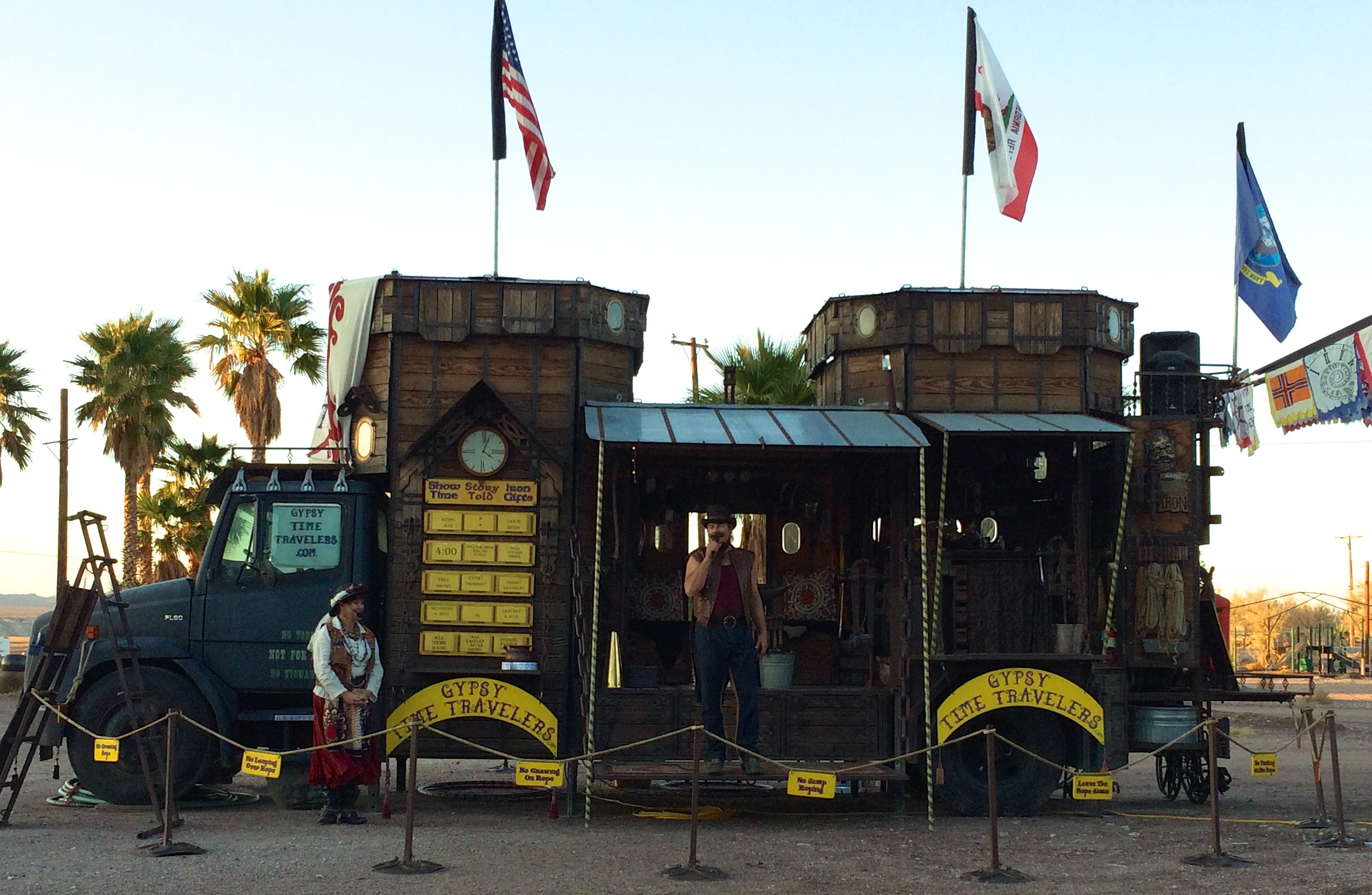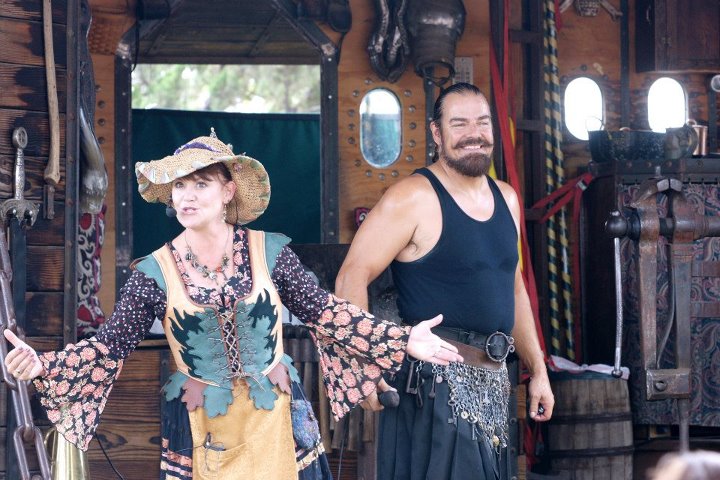 "Michel Olson and Christy Horne are the husband and wife team who have history ringing in the ears of millions of people across the USA!
They travel all across the United States in "Florence" their Recreational Castle, Blacksmith Shop and Stage Rig. 
They combine fabulous storytelling with anvil accompaniment and have created an award winning Stage Show that has been called "The Best in Family EDUTAINMENT."
We traded travel stories with Michel and just as we were leaving Tecopa, Michael came over to our van and gave us one of his lucky horseshoes he had made to carry along on our travels.  Kindred Spirits!
Tecopa Public Golf Coarse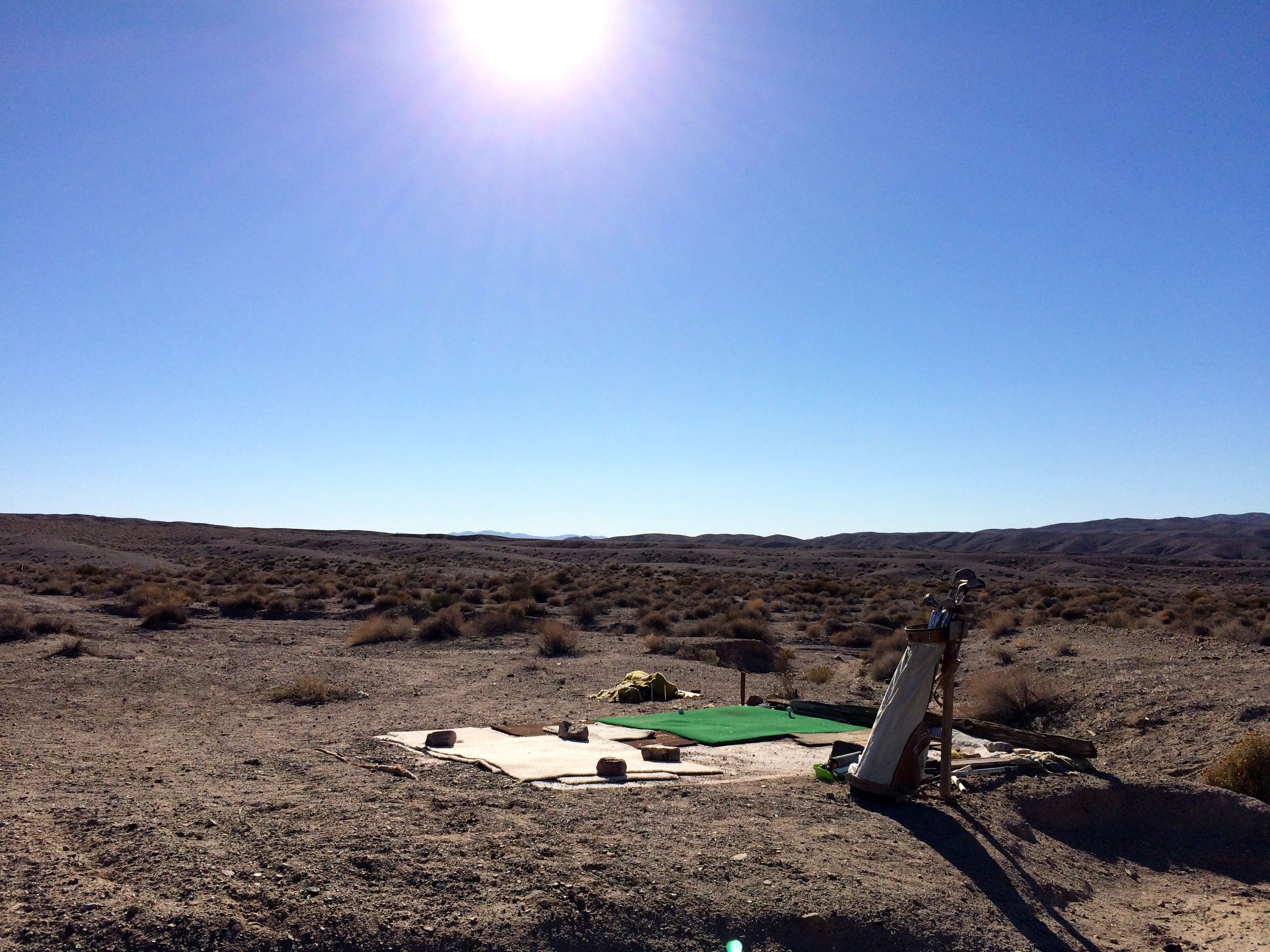 Ken developed this spot when he could no longer afford the fees @ Pahrump Nevada's golf course.
He shares the course with anyone who would like to hit balls out into the desert, as long as they will go and retrieve them...watch out for the scorpions and snakes!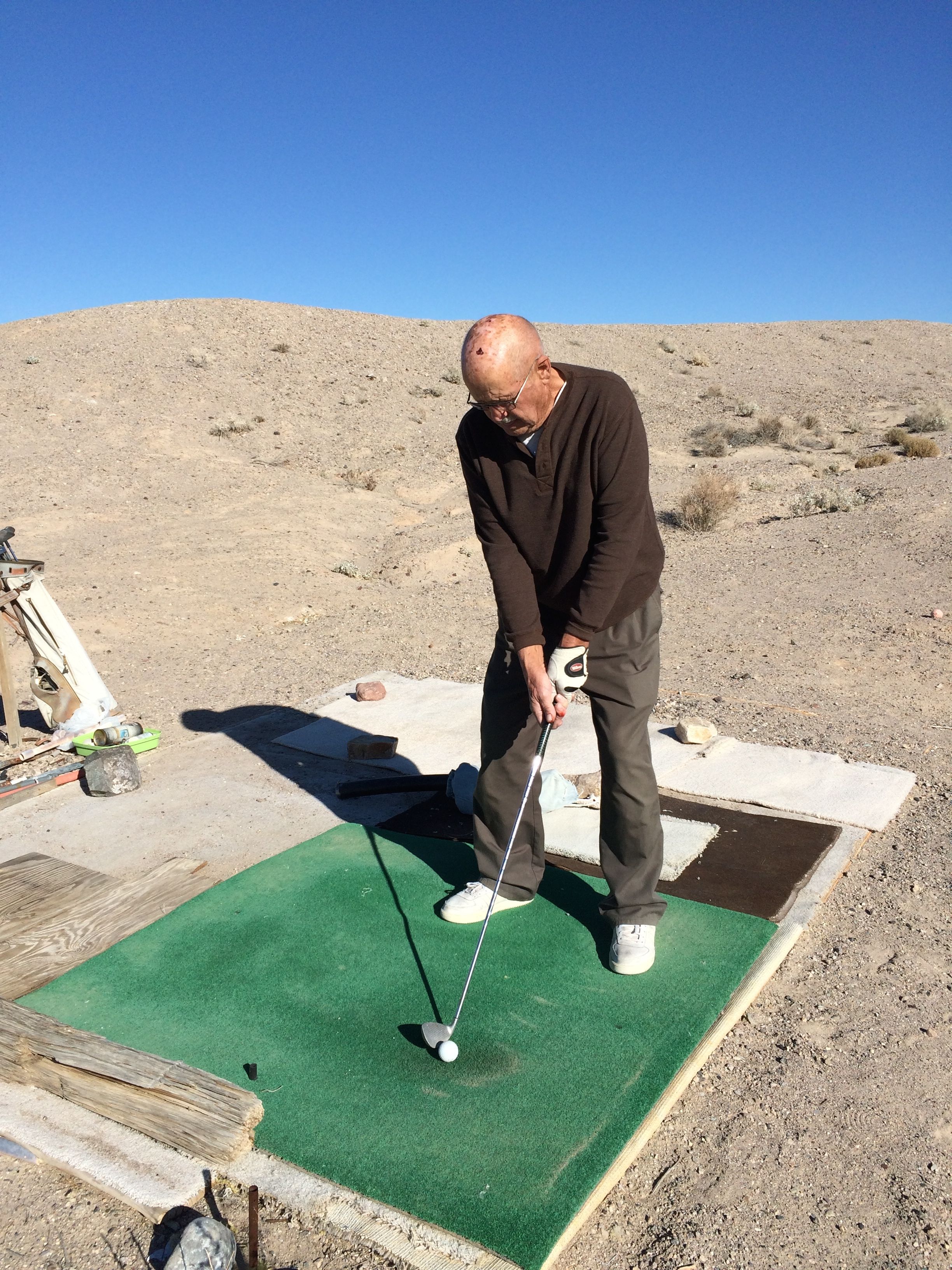 Tecopa Community Church.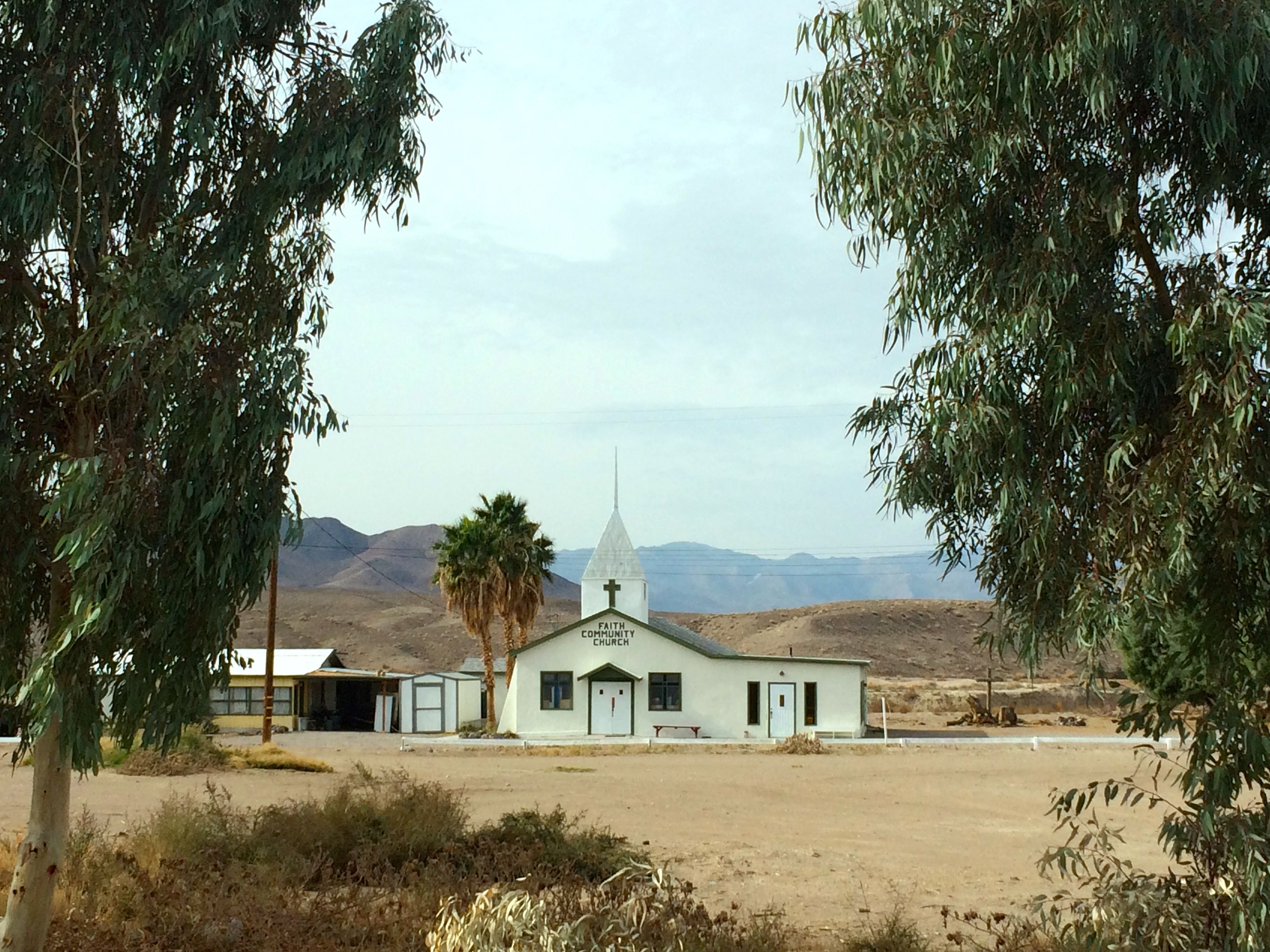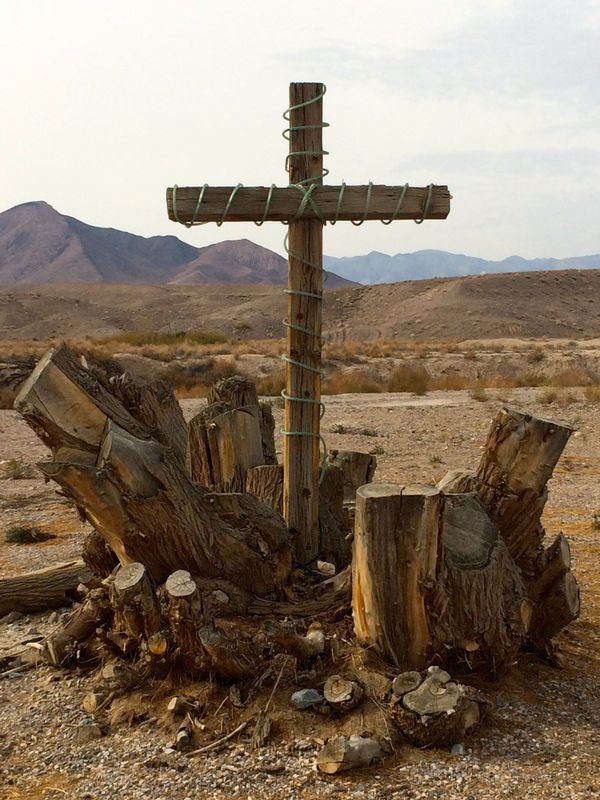 Tasty selection of draft beer @ Death Valley Brewing.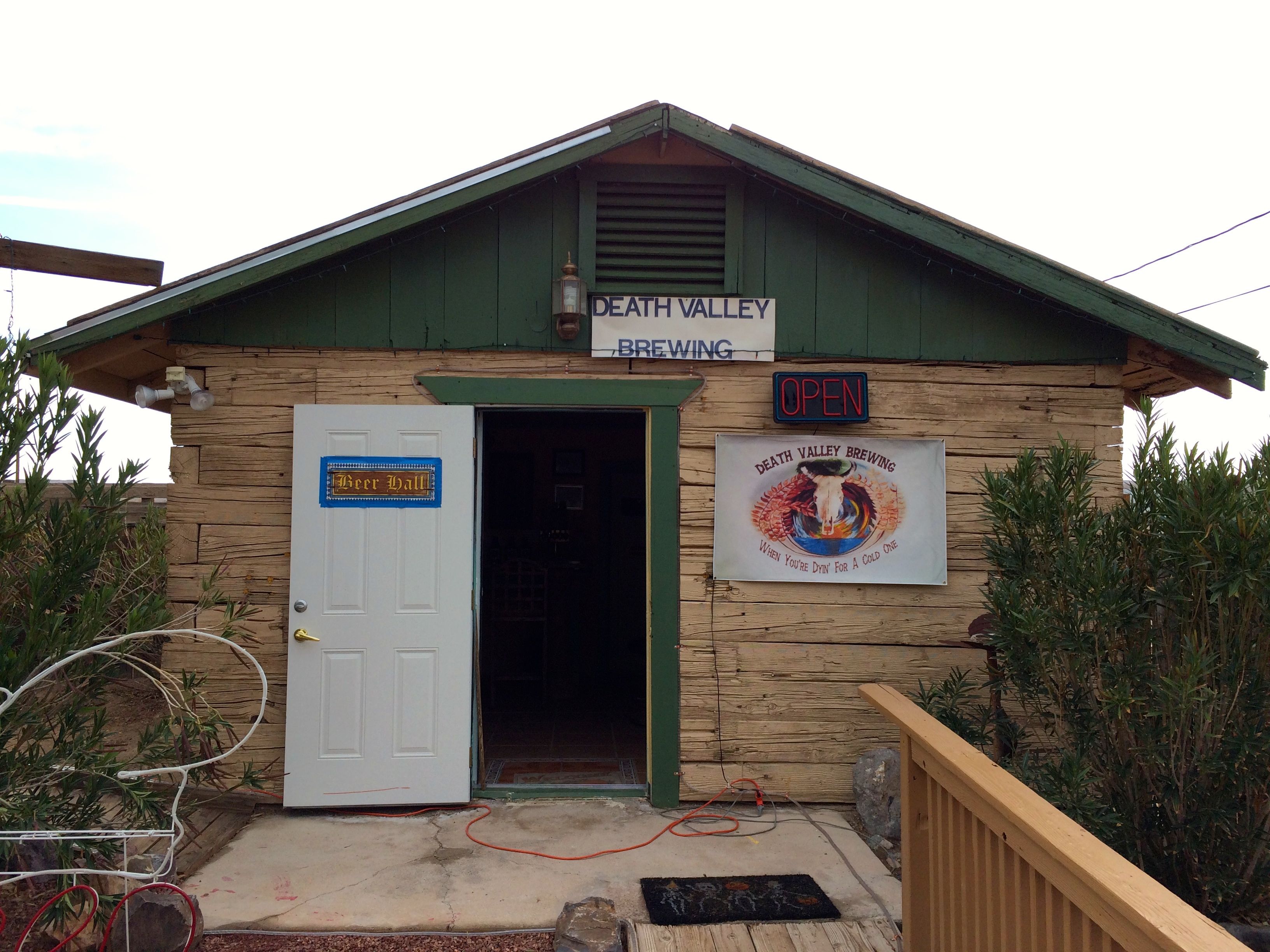 We were fortunate pick up a gig at Death Valley's Inn @ Furnace Creek about 70 miles NW of Tecopa.
What a beautiful old hotel!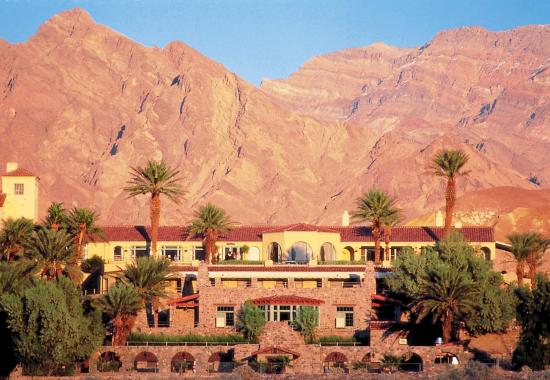 We were treated to a 2 night stay, including food and spirits for 2 performances.
One for the managers holiday luncheon and one for Christmas dinner.
Wow, lovely old hotel & beautiful gardens in this oasis paradise.
The historic Furnace Creek Inn was built in 1927 by the Pacific Coast Borax Company as a means to save their newly built Death Valley Railroad.
The Inn opened for business on February 1, 1927 with 12 guest rooms, a dining room and lobby area. Room rates were $10 per night and included meals.
All materials were local and workers came from around the area, including Shoshone Indians, who made the tiles for the roof of the Inn.
For us, it had the feel of Timberline Lodge, not in architecture certainly, but in the feel of the place and artisan touches.
Old rail tracks were used for much of the rod iron work made into light fixtures and beautifully designed rod iron fences.
Travertine Springs were tapped for electricity and water for the swimming pool.
The spring water is still used for irrigating the Inn's gardens and flow-through pool.
We had this beautiful pool to ourselves.  The water reminded us of Eldorado Springs Pool back in Colorado, but warmer.
Of course we made use of the saunas right next to the pool.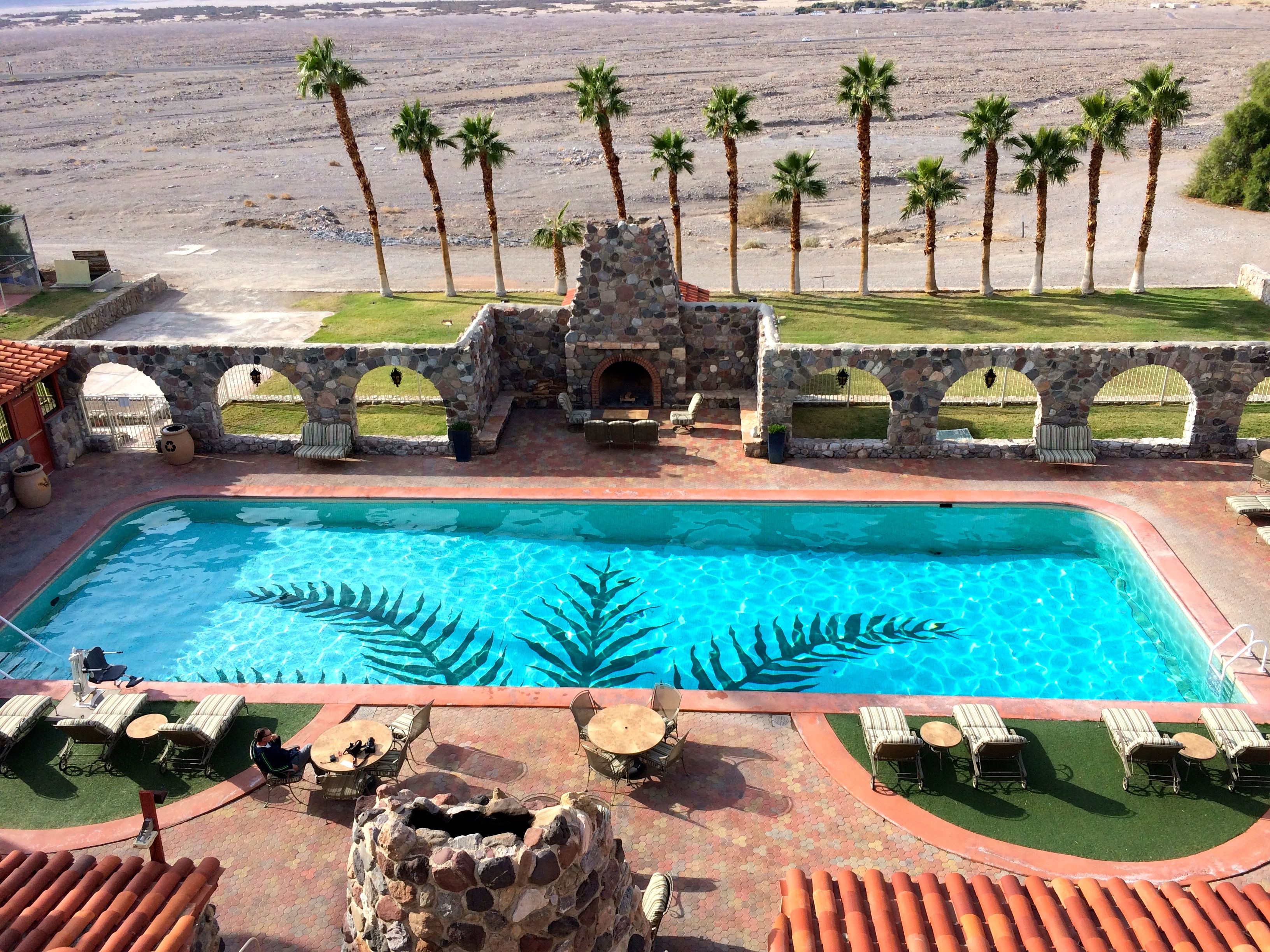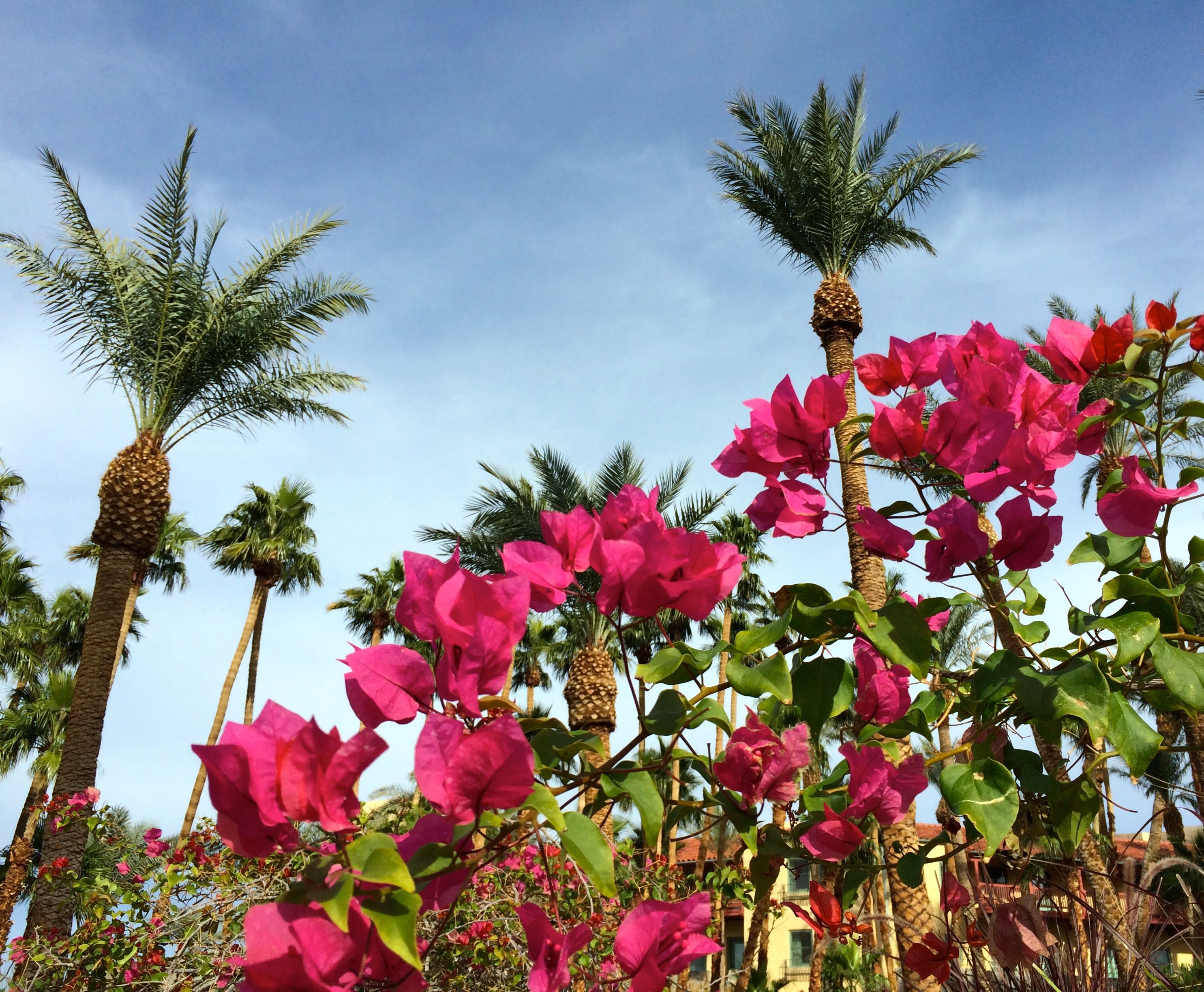 After Furnace Creek Inn , we headed back to Tecopa for our last week in our desert bungalow.
We waited for the coldest morning to go to the natural hot springs just outside of Tecopa, it was 15 degrees out.
The water was nice and warm - the sunrise was beautiful, a great way to start our last day in Tecopa.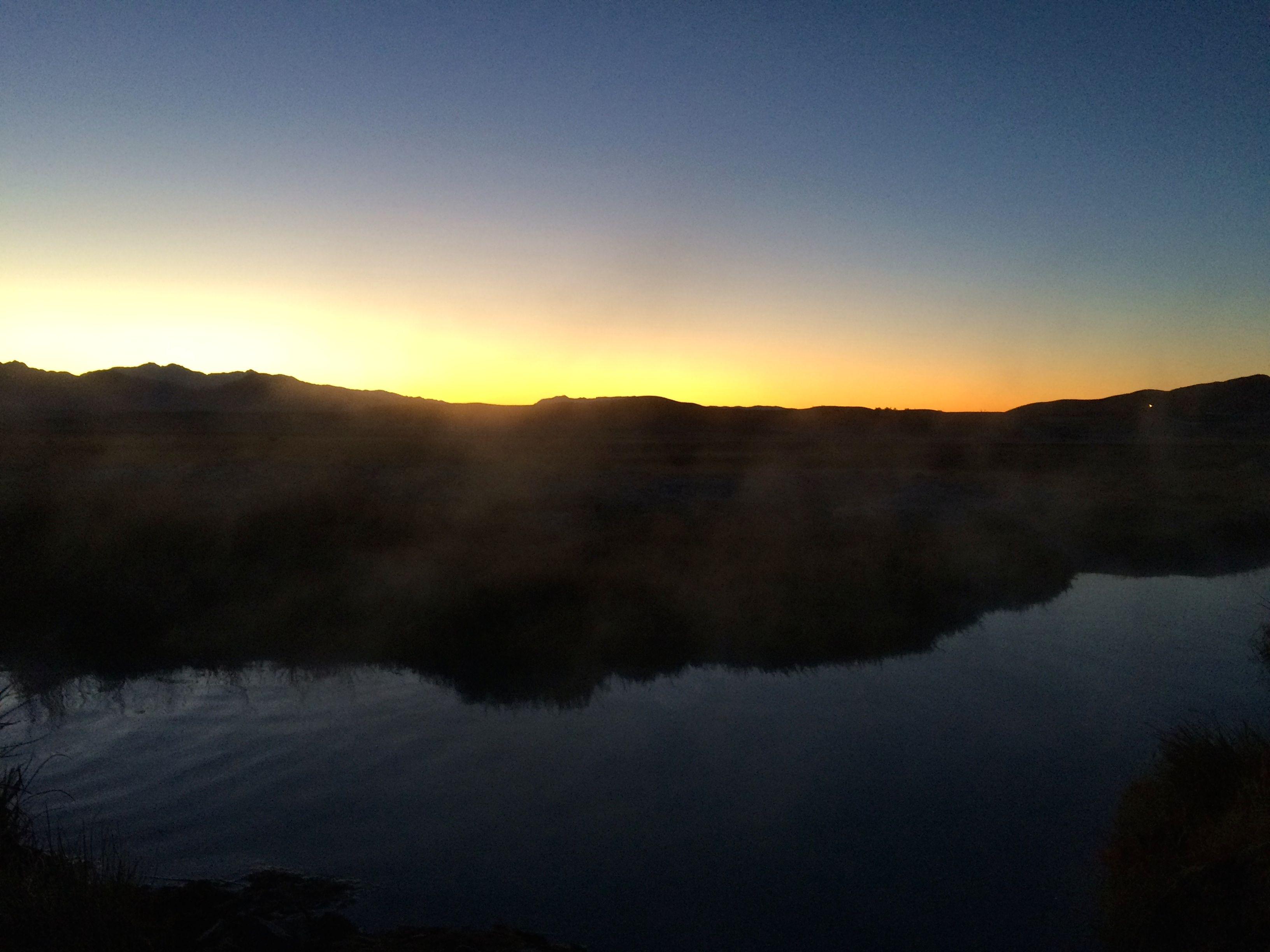 Time to move on down the road!